Social health protection
Updated by Xenia Scheil-Adlung , Veronika Wodsak on 09.01.2012
Introduction to the Social Health Protection Section
Extending social health protection is a key issue in most countries. According to ILO estimates, the access deficit to health care amounts to one third of the population worldwide. In many high-, middle- and low-income countries, given the large numbers of people lacking sufficient financial means to access health services, providing affordable health care is high on the development agenda. Worldwide, millions of people are pushed into poverty every year by the need to pay for health care. Increasing costs, financial constraints on public budgets, and economic considerations regarding international competitiveness have all made social health protection reform a political priority.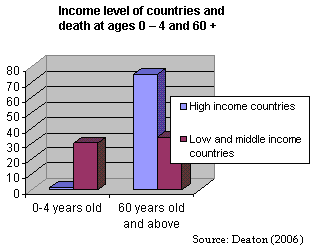 The lack of access to medically necessary health care has significant social and economic repercussions. The significant difference in child mortality between high- and low-income countries displayed in the figure on the right reflects the strong link between poverty, access to affordable health services, and death.

Aside from effects on health and poverty, the close links between health, the labour market, and income generation have an impact on economic growth and development. This may be attributed to the fact that healthier workers are more productive - and that labour supply increases if morbidity and mortality rates are lower.
Access to health services
Extending social security coverage in health means creating effective access to health services that meet the needs of the covered population. Whereas legal coverage describes rights and formal entitlements, effective access refers to the physical, financial, and geographical availability of services.
Financial protection is particularly important in order to avoid health-related impoverishment. Financial protection includes the avoidance of out-of-pocket payments that reduce the affordability of services and - ideally - some compensation for productivity loss due to illness. Out-of-pocket payments (OOP) place a considerable financial burden on households at a time of reduced income and crisis. Moreover, although OOPs constitute the most inequitable source of health financing, they are the largest source of financing for health, especially in poor countries, as displayed in the figure below.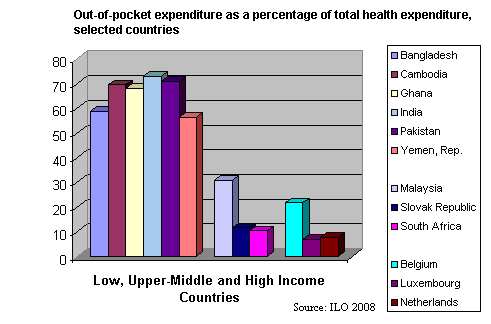 Affordability is not the only barrier for access to health services; in addition, geographical, cultural, informational, organizational, and other barriers may come into play. However, cost is the main reason why sick people do not seek care, and the focus of the ILO strategy towards universal access to health care is therefore on overcoming financial barriers to access through social health protection coverage.
Overcoming financial barriers to access
The ILO defines social health protection as a series of public or publicly organized and mandated private measures against social distress and economic loss caused by the reduction of productivity, stoppage or reduction of earnings, or the cost of necessary treatment that can result from ill health. Extending social health protection means reducing financial barriers to access by establishing prepayment and risk pooling mechanisms which substantially reduce user fees, out of pocket payments, and catastrophic health expenditures. There are different ways to provide social health protection for the population, and virtually all countries have established health systems using multiple sources of financing, combining two or more of the following health financing mechanisms:


Strategies for enhancing the performance of these health financing mechanisms at the country level include:

Overall, there is no single best solution, given the different economic, social, political, cultural and legal environments for effectively mobilizing funds and efficiently applying them. Using different financing mechanisms simultaneously, exploiting synergies, and ensuring their complementarity will allow countries to move faster towards the ultimate goal of universal coverage.
---
Main Resources
Aiming at achieving universal access to health care, the ILO has developed a new social health protection strategy which serves as a guideline on policies in extending access to health care.
» Technical Cooperation Reports on Social Health Protection
Maternity Protection and Social Health Insurance in Africa - A Comparative Overview of Ghana, Kenya, Rwanda, and Tanzania
Sierra Leone. Technical Note. Assessment of health insurance options for Sierra Leone. Assessment, conceptual remarks and recommendations
Egypt. ILO considerations on the social health insurance reform project in Egypt