Extending social security to workers in the informal economy
POLICY RESOURCE PACKAGE
Contenu du module
This ILO policy resource package "Extending social security to workers in the informal economy: Lessons from international experience" serves as a reference for policy makers, workers' and employers' organizations and other stakeholders engaged in the development of social protection strategies, or the planning, design, implementation and monitoring of systems and schemes. This practical tool can help in developing viable policy options to address the multi-fold challenges of extending social protection to workers in the informal economy and facilitating transitions to formality. It includes the following elements:
Issue briefs on lessons learnt for specific categories of workers and topics
Training materials
This policy resource package is intended to be a living toolkit. It will benefit from your feedback and inputs, especially from specific examples, experiences and resources that can be helpful for others. We welcome your suggestions - please get in touch.
Contacts: Christina Behrendt (behrendt@ilo.org) and Alix Machiels (machiels@ilo.org)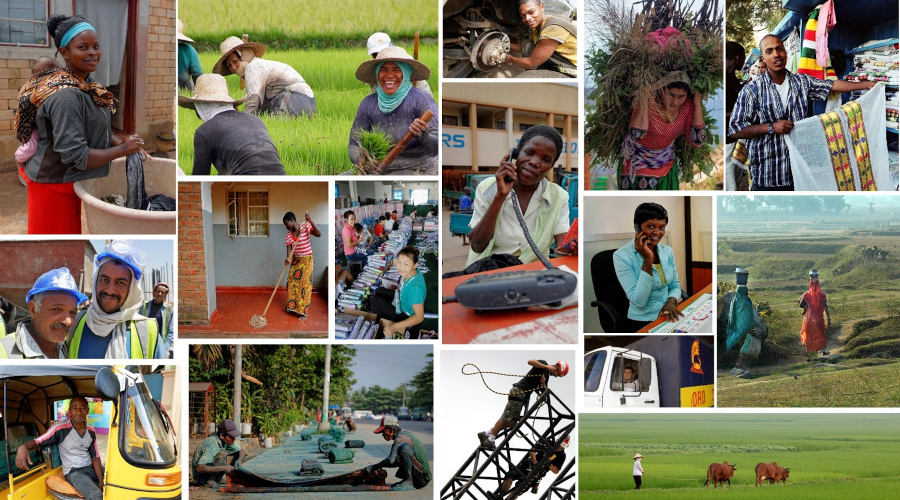 For most workers in the informal economy, the lack of social protection is not only a challenge in their daily struggles to make ends meet, but it also holds them back in their aspirations for decent work, rights and dignity. For the societies in which they live, the lack of social protection coverage undermines inclusive growth, weakens social justice and undermines the realization of human rights.
The term "informal economy" refers to all economic activities by workers and economic units that are – in law or in practice – not covered or insufficiently covered by formal arrangements (ILO Transition from the Informal to the Formal Economy Recommendation, 2015 (No. 204), para 2).
The 2030 Sustainable Development Agenda commits to nationally appropriate social protection systems and measures for all, including floors, and sets a clear target to achieve by 2030 substantial coverage of the poor and vulnerable (SDG target 1.3). In addition to SDG 1 on eradicating poverty, social protection also contributes to SDG goal 2 on eradicating hunger, SDG goal 3 on good health and well-being, SDG 5 on gender equality, SDG 8 on decent work and economic growth, SDG 10 on reduced inequalities and SDG 16 on peace, justice and strong institutions.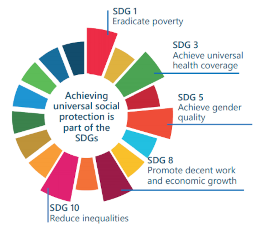 Moreover, extending protection to so far uncovered workers is also one of the recommendations of the Global Commission for the Future of Work (2019) as part of a human-centred approach to the future of work. Some countries have made impressive progress in covering larger groups of workers and the wider population. These experiences, together with a number of recent research, offer a growing knowledge base that can provide useful lessons learnt and inspiration for other countries. Moreover, the international normative framework has been enriched by the recent adoption of two important new international labour standards, the ILO Social Protection Floors Recommendation, 2012 (No. 202), and the ILO Transition from the Informal to the Formal Economy Recommendation, 2015 (No. 204).