News
Philippines. Island-wide consultations to define a Social Protection Floor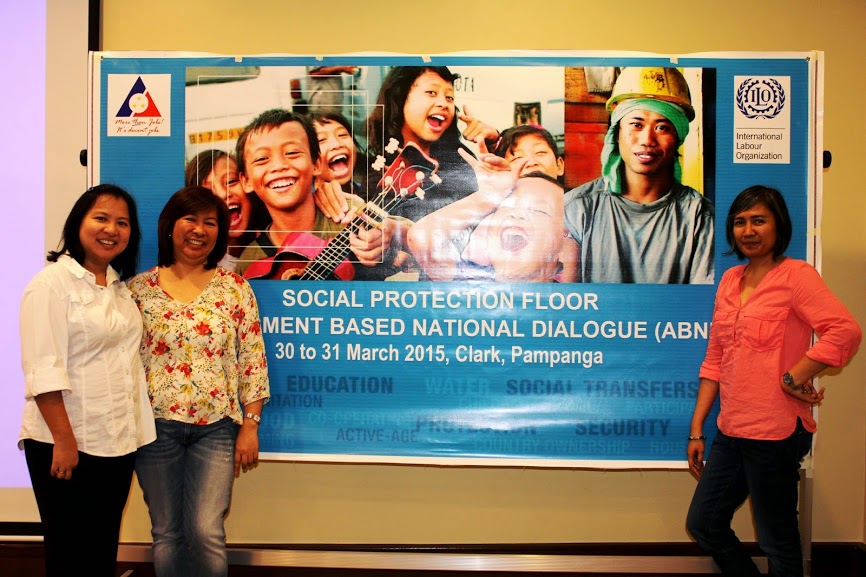 (L-R) DOLE Directors Charisma Lobrin Satumba, Stella Banawis and Adeline de Castro at the island-wide consultation in Clark, Luzon
Philippines concluded three island-wide consultations, aimed at defining a national Social Protection Floor (SPF). The consultations were held in the island groups of Visayas, Luzon and Mindanao between 18 March and 28 April 2015, and were part of the assessment based national dialogue (ABND) exercise currently being conducted. The ABND exercise targets the identification of recommendations to design a national SPF and build a comprehensive social protection system in the country.
Philippines is an archipelago nation located in the Pacific Ring of Fire comprising over 7,000 islands, and thus, is highly vulnerable to natural disasters. Despite seeing high economic growth in recent years, unemployment, underemployment and poverty incidence are persistent. With greater integration into the ASEAN region and the global economy, the country faces vulnerability to social risks and economic calamities.
The government, led by the Department of Labor and Employment (DOLE) and the National Economic Development Authority (NEDA), has initiated an ABND exercise, supported by the ILO. As part of the ABND, island-wide consultations, supported by DOLE Administrative Order No. 112-15, aimed to collate inputs and recommendations from the ground level. The consultations took place in Iloilo city, Visayas (18-19 March), Clark, Luzon (30-31 March) and Cagayan de Oro, Mindanao (27-28 April) and were each attended by over 70 participants.
Over the next few weeks, the ABND exercise will estimate the cost of the SPF recommendations. Following this, the proposed SPF will be presented to and validated by Department Secretaries at a national workshop.
Events
---
28.04.2015 - Loveleen De
Philippines