Africa
Social Security in Africa - Overview
Rich in resources not yet fully exploited, the African continent has the potential to achieve social justice and enduring development through well designed economic and social protection systems. Broadly speaking, social security includes social assistance and social insurance. In Africa, social assistance – government funded or publicly provided benefits, in cash or in kind – is usually allocated according to means tested qualifying criteria and often takes the form of emergency relief as a last resort to people in desperate circumstances.
In terms of social insurance, very few people in Africa are covered – less than 10 per cent in Sub-Saharan Africa (see map on the right for the coverage in African countries and worldwide).1 Those covered are mainly government employees and those who have access to full time formal employment. These statutory social security schemes are often public or publicly regulated to monitor the governance of social insurance schemes and safeguard the interests of contributing members. However, the vast majority of the population does not qualify for or cannot afford to contribute to social insurance schemes primarily due to high and persistent levels of unemployment and the growing amount of informal work.2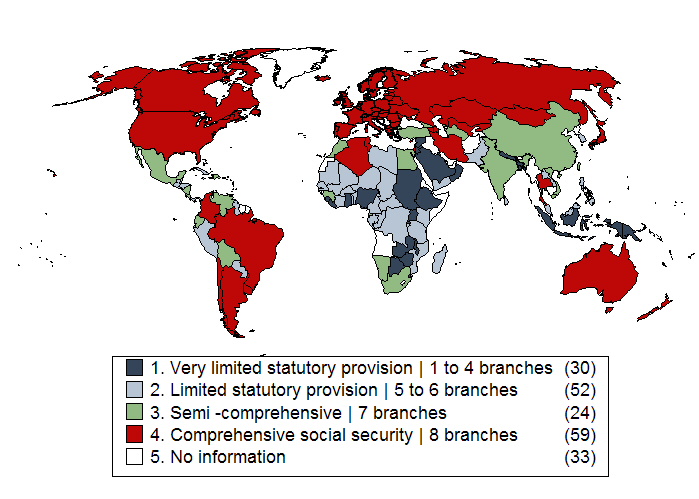 Furthermore, there are significant regional and national differences in the level of development of social security schemes and social protection measures throughout the African continent, which can be divided into three general areas: North Africa, Continental Africa or Sub-Saharan Africa and Southern Africa. Of these three main blocks, two have built social security systems which guarantee at least a minimum social protection package: North Africa and Southern Africa. In North Africa, one of the most developed regions of the continent, ties with Europe played a crucial role in the establishment of pension systems and unemployment benefits (which also cover the self-employed) in the 1950s. The third block, Sub-Saharan Africa, is characterized by a higher level of heterogeneity. Today, this area provides several major examples of social transfer programmes in the continent, with recent governments also trying to reform and extend the social security systems already in place.3 Ensuring that a basic package of social measures is accessible to all those in need and is able to lift them out of poverty thus remains a persisting challenge.
More on social security in Africa:
---
References
1. V. Taylor: The study on social protection systems in Africa: An overview of the challenges (Paper prepared for the First Session of the AU Conference of Ministers in charge of social development. Windhoek, Namibia, 27-31 October 2008), pp. 36-38.
2. ibid.
3. F. Ellis, S. Devereux & P. White: Social Protection in Africa (Cheltenham, Edward Elgar Publishing, 2009), pp. 4-5.