Social Protection and Environmental Conservation
Updated by Sven Nef on 11.06.2015
Why addressing social and environmental challenges together?
The Rio+20 Conference on Sustainable Development as well as the post 2015 development agenda recognize in their reports The Future We Want and Realizing the Future We Want for All that social, environmental and economic aspects of development need to be integrated and addressed comprehensively in order to achieve sustainable development. It is stressed, that progress in one area would also facilitate advancement in the others, thus social, environmental and economic objectives are mutually supportive.
What is Sustainable Development?
Sustainable Development is most commonly defined as "Development that meets the needs of the present without compromising the ability of future generations to meet their own needs." Sustainable Development stresses the connectivity between social, economic and environmental progress and aims for social and economic progress in ways that will not exhaust the earth`s finite natural resources.
World Commission on Environment and Development (1987): The Brundtland Report
How are social protection, poverty and environmental conservation inter-linked?
Increasing environmental disasters are among the examples of this inter-linkage: Poor people are usually most affected by environmental disasters as they tend to live in the most threatened areas and depend on the biodiversity of forests, coasts or oceans for their livelihoods. Their destruction reversely causes severe income losses. As poor people usually do not have the means to protect themselves ex-ante and lack social protection, their vulnerability to environmental shocks increases. By reducing social risks, providing a secure basic income and increased access to basic social and health care services, social protection can not only have a strong influence on poverty but also on the environment: Stable cash income allows for saving and long-term investments in assets, tools or land-use practices that can have a positive impact on environmental conservation. Poor people might also not find themselves compelled anymore to conduct environmentally harming activities and practices such as deforesting to use the wood as an income source or as a fuel for cooking (if other energy sources are missing). Stable cash income may also give people the possibility to engage in conservation activities.
On the other hand, environmental catastrophes (and reversely environmental conservation) can also have an impact on social protection policies by causing either a loss or an increase of employment, income and related access to social protection and social services.
While much progress has been made in many countries around the world in developing policies and programmes aimed at either environmental conservation or at extending social protection, including implementing national Social Protection Floors, there are only few initiatives that aim at simultaneously improving social and ecological protection. Examples include Public Employment Programmes, such as the Indian Mahatma Gandhi National Rural Employment Guarantee Act (MGNREGA) and the South African Working for Water, as well as Payment for Environmental Services (PES) schemes that try to combine the objective of social protection and poverty alleviation with the original objective of environmental conversation. With the Bolsa Verde programme, the Brazilian Government links the existing and well-known social protection Bolsa Família with a PES approach.
The relevant question to ask for any programme that aims at combining two or more objectives is to what extent they can be achieved simultaneously and whether there might be adverse impacts. First experiences of so-called pro-poor PES schemes show, that they do have the potential to bring benefits to social and environmental objectives, but that this does not happen automatically and conflicts between both objectives may appear from time to time. Therefore, pro-poor PES schemes need to be designed carefully and with both objectives in mind to address possible conflicts. As they cannot be the sole responsible for delivering on various objectives alone, they should also be developed within a set of coordinated policy tools.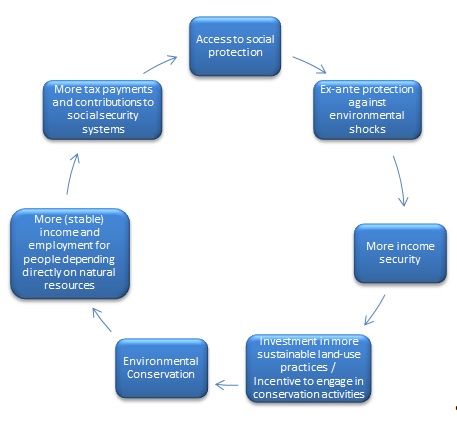 ---
Main Resources
Extending Social Protection and Conserving the Environment: The Brazilian Bolsa Verde Programme and International Experiiences in Payments for Environmental Services. Schwarzer, H.; Diekmann, K.; Van Panhuys, C. (forthcoming, ILO/SOCPRO). Geneva.