HEALTH PROTECTION
More than 90 per cent of those living in low income countries remain without any legal health coverage. Globally, about 40 per cent of the population lack coverage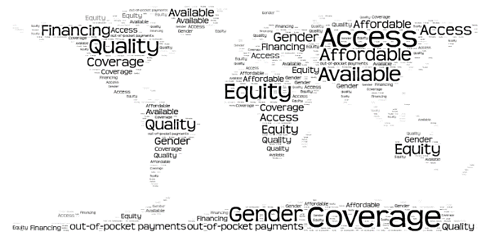 Health protection is meant to secure a population's health, from birth through old age. The overall objective of protection policies is to achieve universal coverage of health care services, including maternity care and preventive services. Quality health care must be guaranteed in legislation and be accessible, thus available when and where needed. The cost of care must be affordable and people financially protected against expenditures incurred such as payments for services received, transport costs and economic loss experienced due to reductions in earnings.
Globally, there are significant gaps in access: In low income countries less than 10 per cent of the population is legally covered. In addition, 80 per cent of the population in these countries lack access to needed health care services due to the absence of health workers to deliver them. Moreover, more than 90 per cent of the people in low income countries are affected by financial gaps and almost half of the total health expenditure is paid out-of-pocket. This poses an enormous risk to the individual, their family, and the overall socio-economic development of these countries and regions. As a result, the maternal mortality ratio is as high as 37.5 per 10,000 live births.
The global deficit in access to health care (2011/12, by level of country income)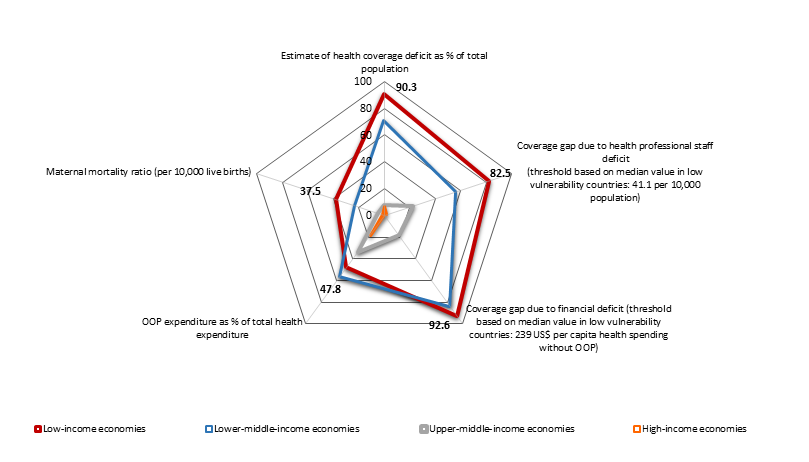 Source: WSPR 2014
If managed well, however, health protection functions as a social and economic stabilizer and the health system can be part of a "virtuous cycle of development", as experienced by countries such as Thailand that have been successful in reducing out-of-pocket payments and providing universal health coverage.
The ILO Social Protection Floors Recommendation, 2012 (No. 202) recognizes essential health care as a necessary component of social protection floors and reaffirms the human right to social security.
Key topics in health protection
Access
Inequity
Financing
Economic Impact
Resources
R202 - Social Protection Floors Recommendation, 2012 (No. 202)