Toolkit on ILO Social Security Standards
Learn, Ratify and Apply
This Toolkit was developed with the aim of raising awareness about ILO social security standards and promoting their ratification as well as increasing their impact and application in national contexts. The toolkit provides very practical and useful insights as to the ratification procedure, model instruments of ratification as well as interactive information on the relevance and key provisions of these standards.
How to ratify ILO Social Security Conventions?
ILO Conventions are international treaties open to ratification by ILO member States. The ratification process of international treaties is determined by every country's Constitution. Nonetheless, there are steps that are common to most ratification processes as well as good practices identified over the years by the ILO that can guide and assist ILO constituents willing to embark on the process of ratifying an ILO Convention.
Main steps common to ratification processes
Assessment of national law and practice against requirement of Convention (if necessary with ILO Support) and validation of conclusions with ILO
Tripartite endorsement of compatibility assessment, and establishment of roadmap towards ratification
Ratification process according to national constitutional requirements
Transmission of instrument of ratification to ILO Director General; registration of ratification as of the date of deposit or receipt
Entry into force of Convention 12 months after the date of ratification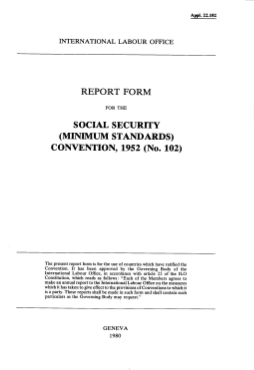 First report on application of the Convention in the year following the entry into force
Periodic reporting every 6 years
Click on the documents below for more information on how to ratify ILO social security Conventions as well as specific country examples on the process leading to the ratification of ILO social security Conventions.
Reference documents
Comparative assessments between ILO social security standards and national law and practice
Ratification briefs documenting national ratification processes
Status of ratification of up-to-date Social Security Conventions
Explore other useful resources
Related websites