Vulnerability Indicators
Updated by Xenia Scheil-Adlung on 12.06.2015
The concept of vulnerability

You are vulnerable to a certain hazard if you have no means of coping with the consequences of that hazard once it has occurred: for example, not being able to afford medical care that can help you regain your health.

If you are vulnerable to a certain hazard then you are in need of a protecting mechanism that reduces your vulnerability. Social security makes you less vulnerable to the financial consequences of certain hazards, for example, illness if and when they materialize, i.e. it provides security or reduces insecurity.

Measuring vulnerability

The socio-economic vulnerability of countries is determined by

national levels of poverty; and the
extent of the informal economy.

Both are key determinants of progress given their impact on the availability of funds from domestic resources (taxes and contributions) and the technical feasibility to reach out to the excluded.

---

Five levels of country vulnerability

Very high vulnerability
Poverty rate: 80% or greater
Informal economy: 80% or greater

High vulnerability
Poverty rate: 50% or greater
Informal economy: 50% or greater

Medium vulnerability

Low vulnerability

Very low vulnerability

The share of out-of-pocket (OOP) expenditure in total health expenditure is correlated with level of country vulnerability. In the figure below, it can be observed that – with one exception - the higher the vulnerability, the higher the share of OOP. OOP amounts to more than 65 % in the most vulnerable countries.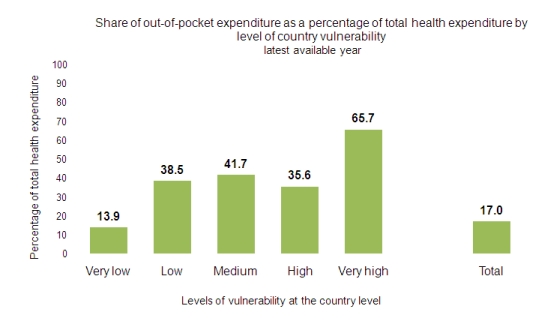 Source: ILO, World Social Security Report(2010), pp. 28, 40.