Vulnerable populations
Updated by Xenia Scheil-Adlung on 12.06.2015
| | |
| --- | --- |
| Key factors that contribute to vulnerability include gender, age, member of ethnic groups such as Roma and migrant status. The key across all these is labour market position because it defines income and employment. | While social health protection cannot substitute for policies that need to address inequalities in general, it has the potential to address gaps leading to inequities in effective access to health care if well designed. |
Women & children
Costs of accessing health care, particularly out-of-pocket payments (OOP) can have impoverishing effects and incur catastrophic health expenditures, when exceeding the household's capacity to pay: Thresholds are typically set at 40 per cent of household disposable income or 10 per cent of total household budget. The impact of OOP is more severe for those with little income and savings, such as women, and is often greater in rural areas. As a result, such costs may not only push the vulnerable into deeper poverty, but can also deter those unable to pay from accessing care in the first place and thus constitute financial barriers to access health services.
The figure below displays financial barriers to accessing health care reported by women in selected countries of Asia, Africa and Latin America:
Financial barriers to accessing treatment for women in rural and urban areas of the Asian, African and Latin American region, 2008 or latest available year.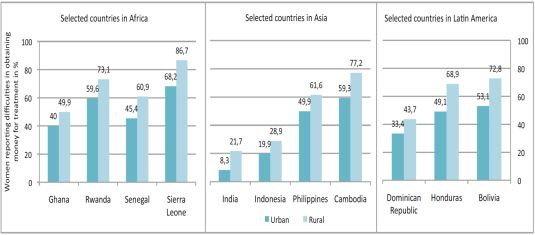 Source: DHS Macro International Inc., 2011. Measure DHS STATcompiler. Accessed 27.04.2011.
Particularly high financial barriers for rural women can be observed for utilization of care during childbirth.
OOP for complicated deliveries are catastrophic in Kenya, Burkina Faso and Tanzania: They present 35 per cent of monthly income in Kenya, and reach 16 and 10 per cent in Burkina Faso and Tanzania respectively.1
In rural areas of China, costs for giving birth were catastrophic in 2007 at a 10 per cent threshold for the lower income group, which paid a mean of 13.1 per cent of annual household income out-of-pocket. At the same time, rates of child and maternal mortality were twice as high in rural areas.2; 3
Besides resulting in financial hardship, indebtedness and impoverishment, high OOP can lead to lower or non-utilization and resulting in higher unmet need for care, particularly among women in rural areas:
In China, high costs for seeking care have lead to decreasing utilization in consultations and inpatient services, despite the growing need for health care for chronic disease and hospitalization e.g. among the aging female population. Further, almost half of those seeking inpatient treatments discharged themselves early against medical advice. The rural population is particularly affected: In 2003, 75 per cent of respondents stated they were unable to cover related expenses.4

In Thailand, impacts of non-utilization of health care due to financial barriers was more severe for people living in rural areas in general, and disproportionately affected women: 4.6 times as many women in rural areas than in urban areas died compared to 4 times as many men in rural vs. urban areas because they could not afford access.5
1 Perkins M et al., "Out-of-pocket costs for facility-based maternity care in three African countries". In: Health Policy and Planning 2009, Vol.24 pp. 289-300.
2 OECD, Rural poverty reviews: China. Paris 2009.
3 Wagstaff A et al. 2009, Reforming China's rural health system. The International Bank for Reconstruction and development/The World Bank, Washington D.C. 2009.
4 Wagstaff et al. 2009, Reforming China's rural health system. Washington D.C.: The International Bank for Reconstruction and development/The World Bank 2009.
5 National Statistical Office Thailand, The 2007 Health and Welfare Survey. Available at http://web.nso.go.th/en/survey/hw/hw.htm
Elderly
The figure below shows increasing per capita health expenditure in OECD countries from 1960 to 2005. The average health expenditure per capita for persons 65 and older in OECD countries is estimated to be about three times higher than that for younger persons (OECD, 2005a). It is projected that due to demographic ageing, total health spending in OECD countries might increase by about 3 per cent of GDP over the period 2000-50 (OECD, 2004). Total expenditure for long-term care ranges between 0.2 per cent and 3 per cent of GDP in OECD countries (OECD, 2005c). Public revenues are the main source of funding for these expenditures. Nursing care in institutions accounts for 82.8 per cent of total expenditure on long-term care in Canada and for 54.7 per cent in Germany.
Total expenditure on health per capita, US $ purchasing power parity, selected OECD countries, 1960-2005
Data as of Oct. 2007
Source: OECD Health Data, 2007 (United Kingdom 2005 data, difference in methodology).
The expected development of health-care costs for higher age-groups and long-term care pose a formidable challenge to the health systems of industrialized countries. New ways to invest in preventing long-term dependency on chronic care and financing of care need to be devised to avoid the re-emergence of old-age poverty or the dependency on charity in industrialized countries.
Persons with disabilities
Over a billion people are estimated to live with some form of disability. This corresponds to about 15% of the world's population. Between 110 million (2.2%) and 190 million (3.8%) people 15 years and older have significant difficulties in functioning. Furthermore, the rates of disability are increasing in part due to ageing populations and an increase in chronic health conditions.
Disability is extremely diverse. While some health conditions associated with disability result in poor health and extensive health care needs, others do not. However all people with disabilities have the same general health care needs as everyone else, and therefore need access to mainstream health care services. Article 25 of the UN Convention on the Rights of Persons with Disabilities (CRPD) reinforces the right of persons with disabilities to attain the highest standard of health care, without discrimination.
Unmet needs for health care
People with disabilities report seeking more health care than people without disabilities and have greater unmet needs. For example, a recent survey of people with serious mental disorders, showed that between 35% and 50% of people in developed countries, and between 76% and 85% in developing countries, received no treatment in the year prior to the study.
Health promotion and prevention activities seldom target people with disabilities. For example women with disabilities receive less screening for breast and cervical cancer than women without disabilities. People with intellectual impairments and diabetes are less likely to have their weight checked. Adolescents and adults with disabilities are more likely to be excluded from sex education programmes.