SOCIAL PROTECTION MONITOR 2010-2017
Social Protection Measures throughout the world: January 2010 to December 2017
The Social Protection Monitor presents the latest policy trends based on media announcements on social protection measures. This update covers January 2010 to December 2017.
Social protection measures by region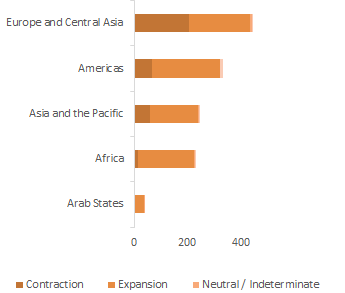 ALERT! Adjustment reforms:
| | |
| --- | --- |
| Increasing retirement age | 84 |
| Reducing benefits | 42 |
| Reducing budgetary allocations | 26 |
| Increasing contribution rates | 26 |
| Contracting coverage | 15 |
| Introducing or increasing incentives for late retirement | 12 |
| Reducing pension benefits | 11 |
| Increasing eligibility period | 10 |
| Introducing or increasing taxes on benefits | 8 |

More information on adjustment measures:
The Decade of Adjustment: A Review of Austerity Trends 2010-2020 in 187 Countries
Social protection global policy trends 2010-2016
Developments by components of the social protection floor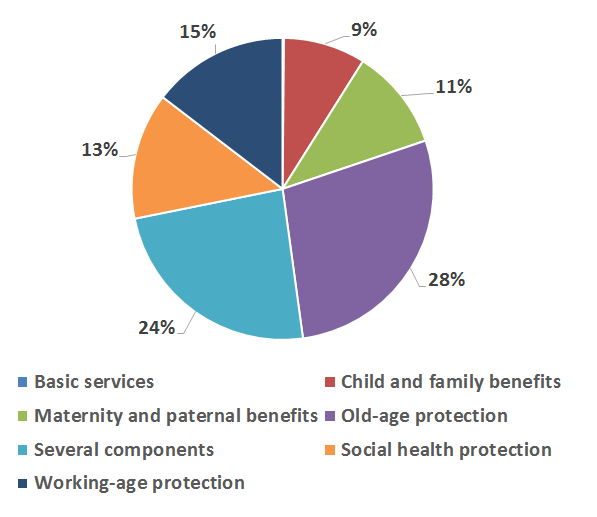 Social protection measures by country

Summary of trends
From January 2010 to December 2017, a total of 1316 social protection reforms were announced worldwide. Most of the measures were concentrated in Northern, Southern and Western Europe (25 per cent), Latin America and the Caribbean (16 per cent) and Sub-Saharan Africa (15 per cent). Overall, 49 per cent relate to non-contributory systems, 43 per cent to contributory systems, and 8 per cent of measures are composed of both. The most frequently cited areas were measures consisting of old-age protection (27 per cent) and several components of social protection (24 per cent), followed by child and family benefits (19 per cent) and working-age protection (16 per cent).
The period shows overall positive developments, as 71 per cent of the measures were expansionary. Extending social protection coverage is the most predominant trend (24 per cent), followed by increases in social protection benefits (9 per cent). However, a number of reforms contracted social protection systems. Pensions were the most affected, with about 6 per cent of overall measures implemented to increase the retirement age. Most of the changes in social protection schemes were parametric adjustments (89 per cent). Structural reforms took place mainly in sub-Saharan Africa.
Regarding the impact of social protection benefits on specific social groups, around 18 per cent of the identified measures included a gender dimension and 19 per cent were implemented to address the needs of the poor or extreme poor.
Methodology
ILO's Social Protection Monitor is based on media/news published online. The Monitor tracks announcements of social protection measures, defined as any policy decision that affects the functioning of a social protection system, from minor parametric adjustments to major developments and reforms, as well as social subsidies. The Monitor is a useful source for addressing the information gap since updates to the comprehensive global social protection statistics reported in the ILO Social Security Inquiry take years to compile. Note that the Monitor is biased given that governments do not always announce, and often underreport, contraction/adjustment measures. While the Monitor provides the most comprehensive list of announced social protection measures and a glimpse at present global trends, it does not replace the thorough analysis provided by the ILO's Social Security Inquiry and the World Social Protection Report. For a full list of measures by country and year, click here.
Top ten measures
| | |
| --- | --- |
| Extending coverage | 312 |
| Increasing benefits | 127 |
| Increasing retirement age | 81 |
| Enhancing the administration of the programme | 56 |
| Reducing benefits | 40 |
| Introduction of a new programme or benefit | 40 |
| Increasing the period for receiving benefits | 33 |
| Increasing pension benefits | 32 |
| Increasing contribution rates | 28 |
| Reducing budgetary allocations | 26 |
Developments by type of social protection scheme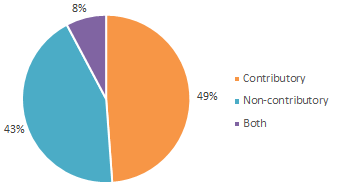 Measures classified by social protection functions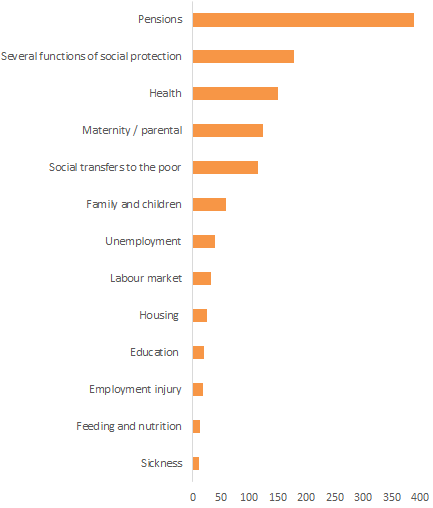 See more:
Global Social Protection Monitor 2017
Social Protection:Data and Indicators
Highlights:
In India, women were the focus of a series of national and regional reform. The central government decided to provide Rs 6000 to pregnant & lactating women, to double maternity leave for women workers in industries, and to extend paid maternity leave from 12 to 26 weeks for women workers. However, the Government also limited India's Maternity Benefit Programme (MBP) to one child only, instead of two, as it was previously announced. (2017)
In Paraguay, a food pension was created for indigenous peoples (2010)
In Ukraine, the transition from public to a private health system was authorized. Also, the country has adopted legislation to reform the pensions system, in line with an International Monetary Fund (IMF) assistance programme. (2017)
In the United States, several states have approved pension reforms that will increase retirement ages, hike contributions, freezing indexation, and enforce the enrolment in a 401(k) style retirement plan for civil servants and public school teachers, among other measures. (2017)
In Bolivia, a new pension law entered was implemented, lowering the retiremente age and nationalized the private pension system. (2010)
In Hungary, the privatization of pensions was reversed (2011)
In Saudi Arabia, a series of royal decrees was issued to increase the social welfare, including extending the coverage of social insurance, expanding social services, increasing subsidy for education, and a new subsidy on housing and utility bills. (2011)
In Nepal, the government announced a new social protection scheme which offers guaranteed employment for up to 100 days for people living below poverty line. (2012)
In Mexico, a universal old-age pension was introduced, extending the coverage for the whole population. (2013)
In Tunisia, the government signed a social contract after the Arab Spring (2013)
Djibouti and Iran announced universal health care systems (2014)
In Indonesia, the government launched the Welfare Family Savings Proramme, comprising three new social security cards that aim to cover the poorest 15.5 million Indonesians. (2014)
In Taiwan, China, the pension reform was approved to cut the retirement benefits of civil servants, by reducing government-subsidized interest rate on savings, lowering income replacement rate, increasing retirement age, and modifying the formula for calculating the pension. (2017)
In China, the two pension systems for public servants and for private employees were unified. (2015)
In Ghana, indigents were included into the National Health Insurance Scheme. (2016)
In Brazil, the Federal Government approved an austerity package that limits public social spending for the next 20 years to the inflation rate of the previous year. In Rio de Janeiro, the State Government has also announced a set of austerity measures that comprise a decrease in pension benefits of state employees and the elimination of social benefits to the homeless and the poor. (2016)
In Uruguay, transsexuals were included as beneficiaries of the Social Card (2012)
In Congo, Democratic Republic of the, the government announced the establishment of an Universal Health Insurance Fund to cover all diseases and to support the entire population. (2015)