Resource
Intervention Model: For extending social protection to migrant seasonal agricultural workers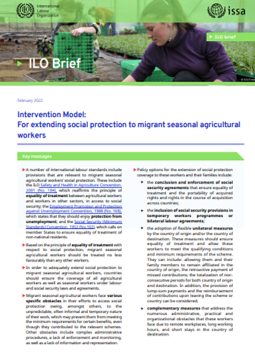 Summary (English)
Drawing from the ILO-ISSA Guide on Extending Social Protection to Migrant Workers, Refugees, and their Families developed in collaboration with ISSA and ITCILO, the Intervention Models aim to provide policymakers and practitioners with succinct practical guidance on how to extend social protection to specific groups of migrant workers. The intervention model includes a brief overview of the obstacles, the international legal framework, and a set of proposed policy options based on existing country practices and international labour standards.
Summary (Spanish)
Los modelos de intervención se basan en la guía de la OIT sobre la ampliación de la cobertura de la protección social a fin de incluir a los trabajadores migrantes, los refugiados y sus familias), elaborada en colaboración con la AISS y el CIF-OIT, y su finalidad es proporcionar a los responsables de formulas las políticas y a los profesionales una orientación práctica sucinta sobre cómo hacer extensiva la protección social a grupos específicos de trabajadores migrantes. A partir de las prácticas vigentes en los países y de las normas internacionales del trabajo, el modelo de intervención incluye una breve descripción de los obstáculos, el marco jurídico internacional y un conjunto de opciones de política propuestas.
Summary (French)
S'inspirant du Guide pratique de l'OIT sur l'extension de la protection sociale aux travailleurs migrants, aux réfugiés et à leurs familles, rédigé en collaboration avec l'AISS et le CIF/OIT, les Modèles d'intervention visent à fournir aux décideurs et aux acteurs du domaine un condensé de conseils pratiques sur la manière d'étendre la protection sociale à des groupes spécifiques de travailleurs migrants. Le présent modèle d'intervention comprend un bref aperçu des obstacles à surmonter et du cadre juridique international, suivi d'un ensemble de propositions basé sur les pratiques nationales existantes et les normes internationales du travail.