Resource
Por que ratificar a Convenção nº 102 da OIT?
Documento de posicionamento do movimento sindical de Moçambique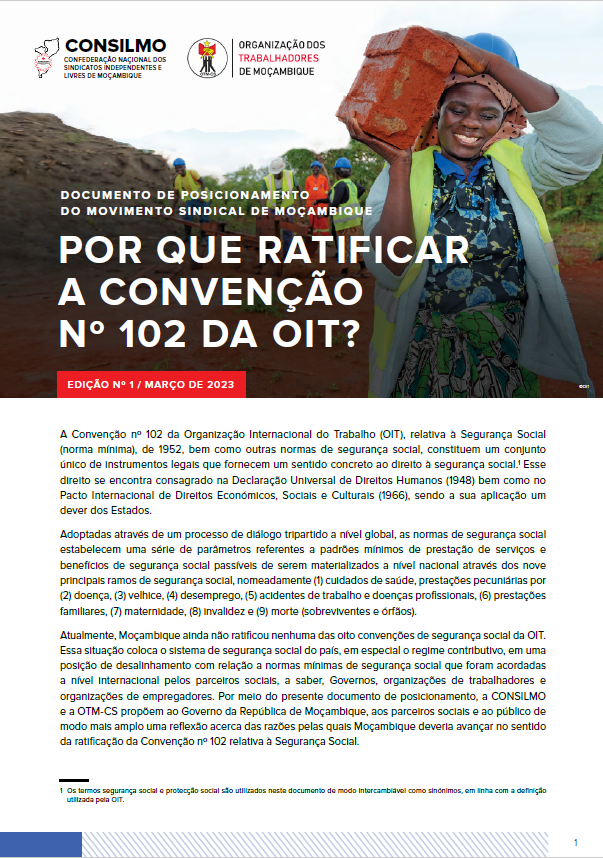 Download
1699 Kb
Summary (English)
Produced by the two largest national trade union confederations of Mozambique, namely the National Confederation of Independent and Free Trade Unions of Mozambique (CONSILMO) and the Mozambican Workers Organization (OTM-CS), this policy brief raises the question on why Mozambique should ratify the Social Security (Minimum Standards) Convention, 1952 (No.102), and explores the benefits that the ratification of this international standard could bring to the strengthening of social protection in the country and for addressing existing coverage and adequacy gaps.
It was launched through a press conference held on 5 May 2023 in the framework of a national campaign led by workers' organizations calling for the ratification of C102, which is conducted as part of ILO's Global Ratification Campaign on Convention No. 102. This brief was developed with ILO's support through the ACTION/Portugal project and the IrishAid-ILO regional project "Accelerating the Achievement of Universal Social Protection to Leave No One Behind"
Summary (Portuguese)
Produzido pelas duas maiores confederações sindicais nacionais de Moçambique, nomeadamente a Confederação Nacional dos Sindicatos Independentes e Livres de Moçambique (CONSILMO) e a Organização dos Trabalhadores de Moçambique (OTM-CS), este documento de posicionamento levanta a questão de por que Moçambique deve ratificar a Convenção sobre Segurança Social (Normas Mínimas), 1952 (No.102), e explora os benefícios que a ratificação desta norma poderia trazer para o fortalecimento da protecção social no país no sentido de colmatar as lacunas de cobertura e adequação existentes.
Esse documento foi lançado durante uma conferência de imprensa realizada a 5 de Maio de 2023, no âmbito de uma campanha nacional liderada por organizações de trabalhadores que apelam à ratificação da C102, que é conduzida como parte da Campanha Global de Ratificação da Convenção n.º 102 da OIT. Foi desenvolvido com o apoio da OIT através do projecto ACTION/Portugal e do projecto regional IrishAid-OIT "Acelerar a realização da protecção social universal para não deixar ninguém para trás"