Resource
Pensões universais de velhice e invalidez - Timor-Leste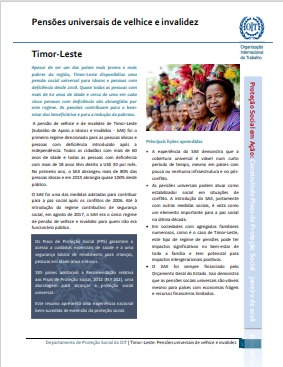 Download
480 Kb
Summary (English)
This document describes the Elderly and Invalid Support Grant (SAII) of Timor-Leste, which was the first scheme for the elderly and disabled, introduced shortly after the country's independence in 2002.
The document explains how the scheme works, the level of coverage and the value of the benefits awarded. Some legal aspects that characterize the scheme, as well as the institutional procedures related to its management and administration, are also presented. The main results and impacts felt in the lives of the beneficiaries are also presented, and future steps are considered in order to improve the scope and effectiveness of the SAII.
Summary (Portuguese)
Este documento da Organização Internacional do Trabalho descreve o Subsídio de Apoio a Idosos e Inválidos (SAII) de Timor-Leste, o primeiro regime direcionado para as pessoas idosas e pessoas com deficiência, introduzido logo após a independência do país em 2002.
O documento explica como o regime funciona, o nível de cobertura e o valor das prestações atribuídas. São dados a conhecer alguns aspetos legais que caracterizam o regime, bem como os procedimentos institucionais dos organismos que detêm a tutela e a responsabilidade pela sua gestão e administração. São apresentados igualmente os principais resultados e impactos sentidos na vida dos beneficiários, e são considerados os passos futuros tendo em vista a melhoria do alcance e da eficácia do SAII.