Corporate Social Responsibility and Social Protection
Updated by Lou Tessier on 12.06.2015
States have the primary responsibility for providing social security to all residents and children (ILO Convention No. 102, Recommendation No. 202). To achieve this goal, they have a range of means of implementation and funding. In this regard, enterprises can play an important role in extending social security in the context of national policies and legislation. Two types of contributions are identified: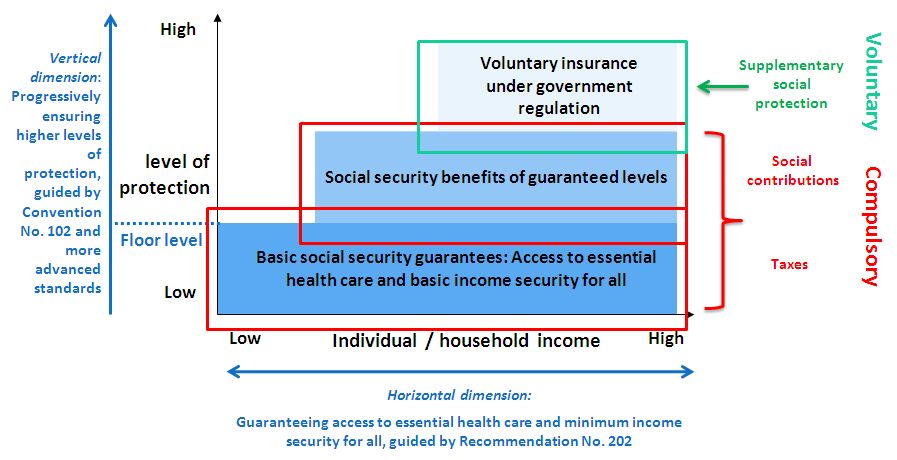 Compulsory entry points

Compulsory social security contributions.
Taxes, part of which is directed towards social assistance.
Participation, through their representative organizations, to national dialogues on the extension of social protection.
Companies must contribute as employers and taxpayers, but they can also support the extension of social security through their Corporate Social Responsibility (CSR) strategies and through the resulting practices. The ILO defines CSR as "a way in which enterprises give consideration to the impact of their operations on society and affirm their principles and values both in their own internal methods and processes and in their interaction with other actors. CSR is a voluntary, enterprise-driven initiative and refers to activities that are considered to exceed compliance with the law."1

1 Subcommittee on Multinational Enterprises, ILO Governing Body, GB.295/MNE/2/1, 295th Session, Geneva, March 2006.
Voluntary entry points

Direct contributions:

Complete the compulsory national social protection programs with additional social coverage (for unhedged guarantees or to increase the social coverage level). This may be included in the social dialogue.
Monitor the workers' social protection and communicate transparently in the public reporting of the enterprise on aspects of both compulsory and voluntary social security coverage, including in the framework of social dialogue.
Provide clean facilities (health centers, for example) as part of a broader accessibility strategy and ensure that these facilities are integrated into national systems where possible (health care system, for example).


Indirect contributions:

Supply chain responsible management practices could include incentives to ensure that suppliers comply with national requirements for social security. This has the potential to support the formalization of employment.
Potential domino effect (drive competitors to align their social protection benefits for their employees, for example).