Philippines: Assessment based national dialogue on social protection, employment promotion and disaster management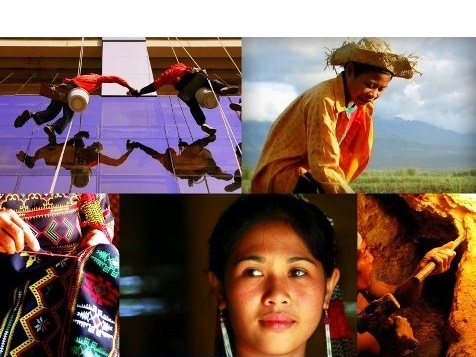 Philippines aims to empower and protect its poor, vulnerable and disadvantaged people, within the inclusive development goals and poverty reduction strategy of the country. The government, particularly the Department of Labor and Employment (DOLE) requested the ILO for technical assistance to conduct an assessment based national dialogue (ABND) exercise. The ABND is expected to provide inputs to the implementation of the Social Protection Operational Framework and Strategy (SPOFS) and the design of a 5-year National Social Protection Plan in the Philippines.
The ABND exercise will assess the social protection system in the country, identify gaps in design and coverage according to the vulnerabilities of the people, explore policy options to establish a Social Protection Floor (SPF) in the Philippines, and estimate the cost of these options. The ABND will also ensure endorsement of the SPF by policy makers.
ABND consists of three steps:
STEP I – Defining the national SPF through the assessment matrix (Jun 2014 - Dec 2015)
The matrix lists the existing social protection, poverty alleviation, employment promotion and disaster management programmes in the country, It also identifies policy gaps and implementation issues, and recommendations for establishing an SPF for all people. The matrix is developed in joint consultation with the national and local governments, employers and workers, civil society and development partners, and endorsed at the cabinet level.
STEP II – Estimating the cost of the SPF (Oct 2014 - Dec 2015)
The cost of implementing the SPF recommendations is estimated until 2020. The ILO's Rapid Assessment Protocol (RAP) is a cost-estimation tool used for this step. The results of the RAP are used as a basis for discussions on prioritizing different recommendations and available fiscal space in the country.
STEP III – Finalizing the ABND report and national launch (Dec 2015 - Mar 2016)
The ABND report, including the recommendations for a nationally-defined 'SPF for all', is finalized, endorsed and launched by the government and other relevant stakeholders. Further, future steps of action are prepared, such as providing inputs to the SPOFS Action Plan and Philippines' first 5-year National Social Protection Plan.
Assessment based national dialogue: A good practices guide is now available online!
ABND Philippines will also assess and propose improvements in social protection interventions in disaster and conflict prone regions.