Social Protection Global Technical Team (SP GTT) Retreat, 15-17 March 2017
Send an email in order to subscribe for the workspace
Sara Abdulrehim , Andrés Acuña-Ulate , laura addati , Hellen Amakobe , Pascal Annycke , Margaret Antosik , Naomi Asukai , Adam Dramane BATCHABI , Dramane BATCHABI , Christina Behrendt , Fabio Bertranou , Joana Borges Henriques , Theopiste Butare , James Canonge , Jeronim Capaldo , Pablo CASALÍ , Luis Casanova , Luis Cotinguiba , Charles Crevier , Nuno Cunha , Loveleen De , Fabio Duran Valverde , Ulrich Eisele , Benedicte Fonteneau , Benedicte Fonteneau , Luis Frota , Victoria Giroud-Castiella , Luiza Guimaraes , Luize Guimaraes , Grace Halim , Kenichi Hirose , Frank Hoffer , Aidi Hu , Huib Huyse , Samia Kaziaoul , Kagisanyo Kelobang , ursula kulke , Alexandre Landry , Marcus Leven , Cristina Lloret , Kroum Markov , Valeria Nesterenko , Dat Nguyen , Malika OK , Bolotbek Orokov , Isabel Ortiz , José Francisco Ortiz Vindas , Karuna Pal , Celine Peyron Bista , Khemphone Phaokhamkeo , André Picard , Vinicius Pinheiro , Ariel Pino , Markus Ruck , Gilani Saad , Xenia Scheil-Adlung , valérie schmitt , Helmut Schwarzer , Artiom Sici , Jittima Srisuknam , Emmanuelle St-Pierre Guilbault , Maya Stern Plaza , Nuno Tavares Martins , Mito Tsukamoto , Ippei Tsuruga , Stefan Urban , Thibault van Langenhove , Clara van Panhuys , Sergio Velasco , Umuhire Victoire , Veronika Wodsak , Hiroshi Yamabana , Huguette Yéré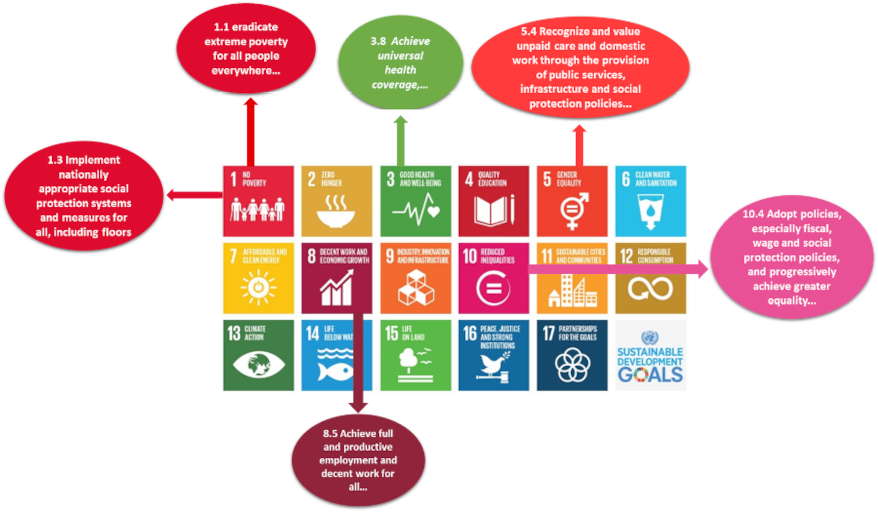 The Social Protection Global Technical Team (SP GTT) retreat will be held in Geneva from 15-17 March 2017.
Location will be the CICG, 17, rue de Varembé, Geneva.
In line with the minute from the DG, the main aims of the GTTSP retreat will be:
to enhance our ability to "deliver as one" quality technical products, to develop and exchange knowledge with a view also to raise technical competence of each one of us to respond to the needs of our constituents.
Other topics:
1) Implementation of the Programme and Budget 2016-17 and the strategy of Outcome 3;
2) The Office's strategy in social protection in the context of the 2030 Agenda and Decent Work;
3) Constituents' needs in the context of current divergent policy trends;
4) Providing quality high impact technical advice and services;
5) ILO's Flagship programme on Social Protection Floors for All.
The retreat will bring together specialists and other technical staff working in the area of social protection from the Social Protection Department, the Outcome 3 Coordinating Team, Regional Offices, Country Offices, DWTs, ITC Turin and Development Cooperation Projects.
Please join us for a dinner on Wednesday 15 March.
The location will be restaurant la Romana at 5 minutes walking distance from the CICG centre. The menu will cost 29,50 CHF without drinks. It includes a green salad, pizza or pasta (which can be choses freely from the menu) and as desert a tiramisu.
Confirming or infirming your participation is still possible, either by email or through this doodle http://doodle.com/poll/fftbgv3hqcs9hx8a Please note that the dinner will be self-financed by the participants
See also: tentative agenda, participant list, CICG access: bus & maps, presentations, minute on staff development allocations and the marketplace