Trends in formal social health protection
Updated by Xenia Scheil-Adlung on 12.06.2015
Despite continuous economic and financial crises, the vision to achieve universal social health protection for everybody remains high on the agenda of many countries.

Progress towards universal health coverage can be observed in countries that have implemented reforms to increase fairness in financing and reach out to the excluded (e.g Chile, Ghana, Rwanda, Turkey and Thailand).

The situation is particularly challenging in countries that are simultaneously experiencing problems such as high rates of poverty, large informal economies and aging populations. In these countries, the poor, women, the elderly and vulnerable groups such as migrants and ethnic populations are most concerned by gaps in coverage.

Related global trends can be characterised as follows:

Access to health care is jeopardized in low income countries
Geographic and gender differences in coverage impact on equity
Limitations in scope of benefits hinder access to needed health care
Fairness in financing social health protection is rare but improving
Progress towards achieving the MDGs in health is insufficient
Demographic shifts require improving access to health and long term care for the elderly
Access to health care is jeopardized in low income countries
Despite efforts over the last years to extend social health protection coverage, low-income countries (LIC) lag behind on most targets set for achieving universal health coverage.
Performance of low income countries in moving towards universal health coverage: The status quo and the MDG target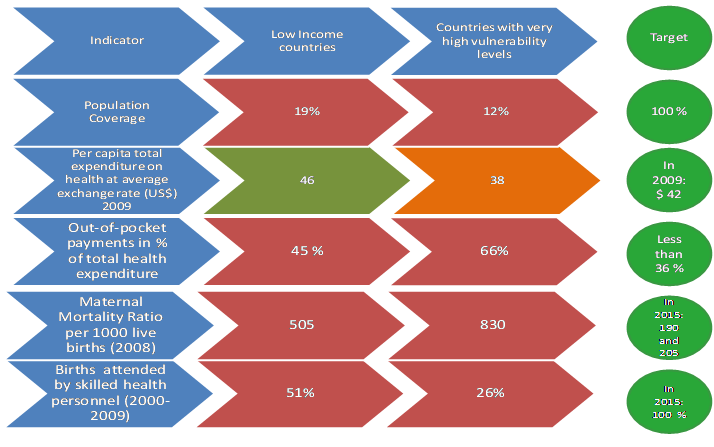 Source: WHO, Global Health Observatory, 2011; ILO Social Health Protection, 2008.
Access to health care is significantly jeopardized in low income countries; particularly those that have the highest levels of poverty and shares of workers working in the informal economy. Gaps in effective access to health care are also observed in countries that are less vulnerable in terms of poverty and informal economy.
Gaps in social health protection coverage by countries level of vulnerability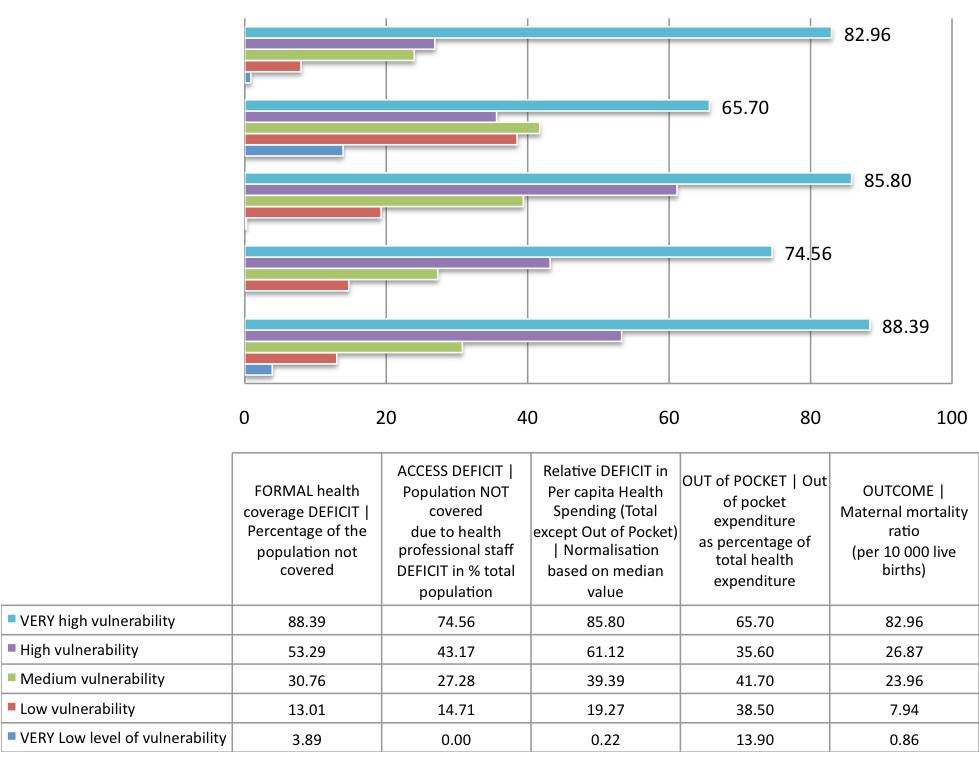 Source: ILO (2007)
Geographic differences in coverage impact on equity
Place of residence can often explain gaps in effective access to health care. In general, coverage is worsened when taking into account infrastructure and availability of health professionals.
In Ghana, for example, 25 per cent of the population lives over 60 km away from a health facility attended by a doctor. In Tanzania, the main reason for 44 per cent of women being unable to give facility-based births was insufficient time to reach the health facility.
Geographical barriers to access health care
Source: ILO (2007)
The impact of geographical barriers on access to health care can be best shown when analysing the urban/rural differences in utilization rates of health care.
In China, for example, although improvements in utilization were observed between 1992 and 2002, a significant gap still exists between urban and rural care. The percentage of hospital deliveries increased from 22% to 62% in rural areas, yet is far below the urban rates of 87% to 93% over the same period. A similar development could be observed with regard to prenatal care: In rural areas, the percentage of women receiving prenatal care increased from 11% to 33%, and in urban areas from 49% to 57%.
Percentage of ill or injured household members from rural and urban areas in Cambodia who sought treatment in the last 30 days
| | | |
| --- | --- | --- |
| | First treatment | |
| | Urban population | Rural population |
| Public Sector | 18.6 | 22 |
| National Hospital | 4.1 | 2.1 |
| Provincial Hospital | 4.2 | 2.4 |
| District Hospital | 1.5 | 3 |
| Halth centre | 7.8 | 13.6 |
| | | |
| Private Sector | 59.9 | 46.7 |
| Private Hospital | 1.8 | 0.6 |
| Private Clinic | 14.8 | 6.5 |
| Private Pharmacy | 25.9 | 6.6 |
Source: DHS 2005
Limitations in scope of benefits hinder equity in access to needed care
When assessing coverage and access to health care it is also necessary to identify limitations and gaps in the scope of benefits. Significant gaps in scope of benefits are often found as regards pregnant women and for vulnerable groups such as peoples living with HIV/AIDS and the poor elderly.
Globally, maternity leave and related cash benefits – provided to women working as employees in the formal economy - varies significantly as outlined in figure 8: The length of maternity leave expands from around 80 to 165 days on average and replacement rates of wages during maternity leave from around 88 % to 92 %. The scope of benefits is most limited in Africa. However, since coverage applies to formal economy workers only, the majority of women giving birth and living in the most vulnerable countries is totally excluded from this benefit.
Limitations regarding on scope of maternal medical benefits often exist. The example of Moldova is shown in Figure 9. More than 50 per cent of women that received antenatal care did not get any reimbursement for the expenses incurred and only 20 percent of the women received full reimbursement either by an insurance scheme or the government. Thus, related benefits remain limited to those who can afford them.
Also concerning HIV/AIDS benefits, frequently doctor's fees, consultation fees per visit, or specific laboratory tests are not covered. In some countries such as in the Philippines, the existing social health insurance schemes totally exclude coverage for HIV/AIDS and even exclude concerned people from registration. In a recent survey of 65 countries, it could be observed that social or micro health insurance schemes in 11 countries exclude treatments for HIV/AIDS from their benefit packages.
Also the elderly in need of long-term care experience in many countries significant limitations of benefit packages despite the growing need for long-term care protection. Limitations in benefit coverage occur particularly due to high cost sharing rates and missing interfaces between social and medical services in countries such as Austria, Canada, Finland, Germany, Korea, Portugal, and Spain.
Global variations of average maternity benefits

Fairness in financing social health protection is rare but improving
Fairness in financing social health protection refers to a fair distribution of the financial burden involved in accessing health care. Fair financing mechanisms include prepayments and risk-pooling of expenditure through taxes, contributions or premiums that are used to fund health care.
On the contrary, payments that are due at the point of delivery – out-of-pocket payments (OOP) – are regressive and create a barrier to accessing health services by pushing the financial burden onto the individual. High OOP indicate gaps in financial protection. The worst form of OOP is catastrophic health expenditure that exceeds 40 percent of a household's income net of subsidence.
As a general trend, between 1995 and 2009, OOP as per cent of total health expenditure decreased in all regions and country income groups. However, at the same time an increase in total health expenditure could be observed in all regions.
Development of OOP as percent of total health expenditure, by income level of country, 1995-2009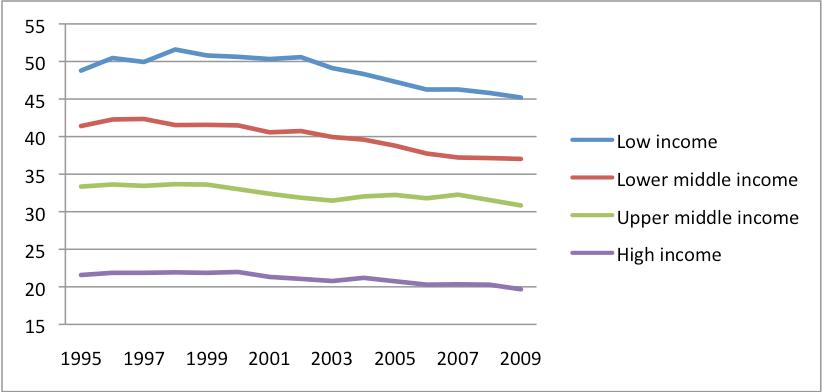 Source: ILO based on WHO Global Health Observatory, 2011.
Development of total health expenditure in percent of GDP by region
Source: ILO based on WHO (2011) Global Health Expenditure Database.
The largest average growth with an increase of 50 per cent from 4.3 to 6.45 per cent has occurred in North America. The increase amounted to 23 per cent in Europe and Africa (growing from 5.79 to 7.1 per cent and 5.48 to 6.73 per cent respectively) and 14 per cent in Asia (growing from 5.81 to 6.64 per cent).
Progress towards achieving the MDGs in health is insufficient
Progress towards the health-related MDGs, particularly maternal health (MDG 5) and HIV/AIDS (MDG 6) has been slow and is off track in most regions.
MDG 5 (maternal mortality) has been reported as the most off-track of all MDGs. Most countries are unlikely to reach the target of reducing rates by 75 per cent to reach the 2015 target.
Progress towards MDG 6 is scattered. Globally, between 2000 and 2008, new HIV/AIDS infections declined by 16 per cent, and were estimated at 2.6 million in 2009. Infection rates range from 0.1 per cent in 88 out of 149 countries to over 20 per cent in others, e.g. in Lesotho or Swaziland.
The slow progress in achieving the MDGs 5 and 6 is closely linked to the gaps in social health protection coverage, particularly access to health services in maternal care and for HIV/AIDS treatments. These gaps are often correlated to high OOP impacting on poverty and to the absence of skilled health workers:
Significant gaps in access to maternal care
Between 2000-2010, globally 78 per cent of pregnant women received antenatal care once during pregnancy, but only 53 per cent received the minimum of four visits as recommended by WHO.
On average only 60 out of 100 births in Africa are attended by skilled health personnel. In some countries, the number of skilled attended births has even declined: In Sudan, coverage fell by 42 per cent and by 11 per cent in Azerbaijan.
In many countries the use of antenatal care and professional delivery care is higher among the richest quintile than among poorer women. Non use of antenatal and delivery care is almost completely concentrated among the poor, in fact a study of globally 65 countries showed that over 85% of the wealthiest quintile of the population uses antenatal and delivery assistance, but only 55% and 22% of poor population gets to use antenatal and delivery care respectively. Moreover the few facilities that are available tend to be concentrated in urban areas and while many poor live in rural areas.
Deficits in financial protection hinder progress in combating HIV/AIDS:
In Nigeria, data reveal that for people living with HIV, out of pocket health-related costs are approximately five times as high as for HIV-negative individuals. Reaching 43 per cent of annual household per capita income, they account for the largest share of the financial burden of HIV/AIDS.
Additionally, total household income due to care giving and inability to work is reduced by almost one third. This forces 13 per cent of PLHIV to sell assets, as compared to 2.5 per cent of HIV-negative patients. Higher prevalence of HIV/AIDS among women combined with greater poverty as well as the households' care-giver role therefore have an even greater impact on loss of income, deepening poverty, and financial barriers in accessing necessary treatment.
Demographic shifts require improving access to health and long term care for the elderly
Since, 1950 the number of people aged over 60 have increased by a double digit rate in all regions of the world. Reductions in mortality have been substantially higher among females than males resulting in and increased life expectancy at birth from 2.7 years in 1950-1955 to 4.5 years in 2005-2010 globally.
Given the fast ageing of the populations around the world, an increasing global demand for health and long-term care for the elderly – particularly women – can be expected. In addition to the age of the population, income – at national and household level – is closely correlated to health expenditure and will play an important role.
Population aged 60+ in percent of total population by region 1950 and 2010 (Female and Male)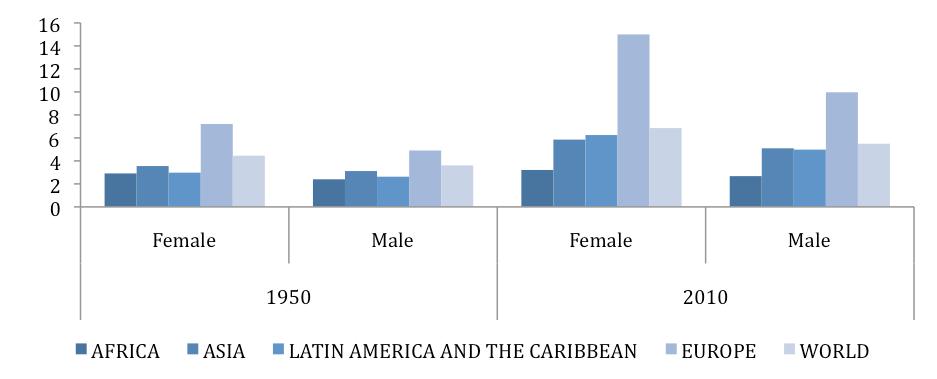 Source: UN, World Population Prospects: The 2010 Revision.
While health expenditure in percent of GDP generally increases with age, the most important peak in health care expenditure occurs with regard to the highest age cohort i.e. for people aged 75 and over.
Health expenditure for the elderly aged 75 + represents up to 30 percent of total health expenditure in countries such as Canada and France. Related OOP reach peaks between 5 and 7 percent of household income of people aged 50+ in countries such as Austria, Italy, Belgium and Greece. In these countries, the main part of OOP is spent on outpatient care, except for Belgium where OOP for prescribed medicaments constitute about nearly 4 percent of households' OOP.
OOP for health expenditure in percent gross income of households headed by persons aged 50+, selected countries, 2004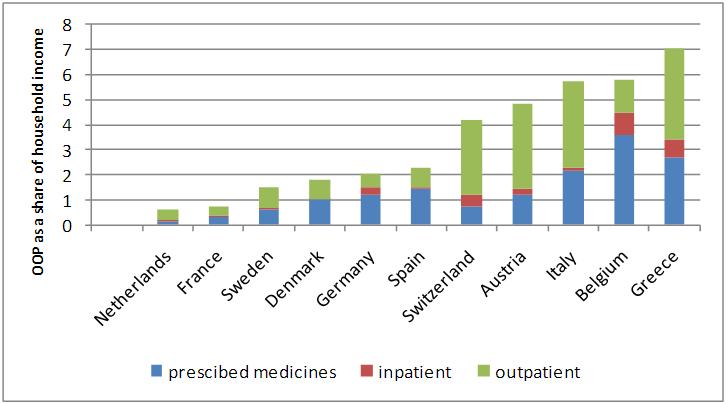 Source: ILO based on SHARE (2004)
OOP expenditure for health constitutes a share of more than 20 percent of household income among the poor elderly, whereas for the richest it is less than 1 percent in all countries observed.
Many of the elderly are in need of long-term care – particularly in OECD countries as shown in Figure 22. The trend in the past years is that significantly more nursing home care is required while the utilization of the more expensive institutional care declined over time (Figure 23 and 24).
Although long-term care benefits have been introduced over the last years in a number of mainly OECD countries, financial protection is low and in middle- and low-income countries, such provisions are usually not at all part of the benefit package.
Financing of long-term care frequently includes OOP: It reaches about 60 percent of total costs in Switzerland, 45.4 in Portugal and around 30 in Germany and Span. If differentiated by type of care, we find that costs occur mostly on institutional but also on home care.
Recommended further reading: World Social Security Report 2010/11