SOCIAL PROTECTION MONITOR 2017
Social Protection Measures throughout the world: January to December 2017
The Social Protection Monitor presents the latest policy trends based on media announcements on social protection measures. This update covers January to December 2017.
Social protection measures by region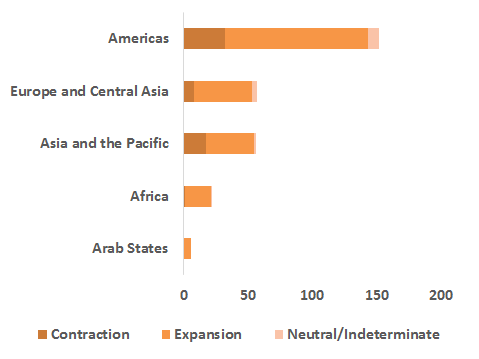 ALERT! Adjustment reforms:
| | |
| --- | --- |
| Increasing retirement age | 15 |
| Contracting coverage | 8 |
| Increasing contribution rates | 8 |
| Modifying calculation formula | 5 |
| Reducing credit/budgetary allocation | 3 |
| Privatization or introduction of individual accounts | 3 |
| Reducing benefits | 3 |
| Rationalization and narrowing of programmes or benefits | 2 |
| Freezing indexation | 1 |

More information on adjustment measures:
The Decade of Adjustment: A Review of Austerity Trends 2010-2020 in 187 Countries
Social protection global policy trends 2010-2016
Developments by components of the social protection floor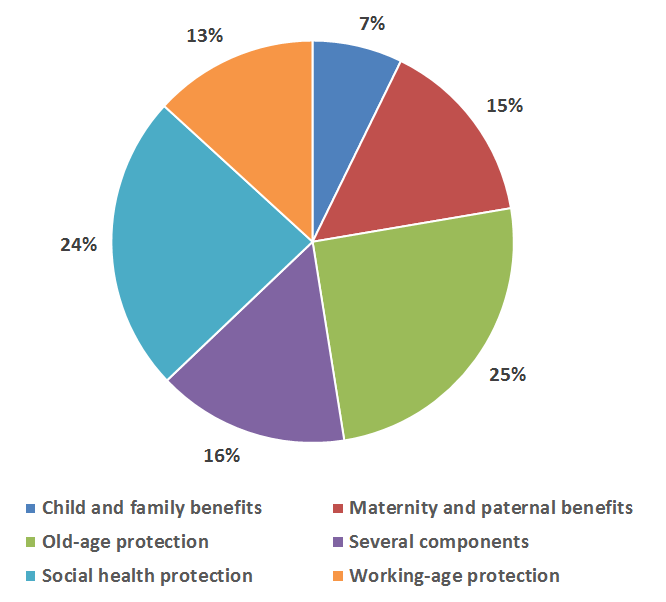 Social protection measures by country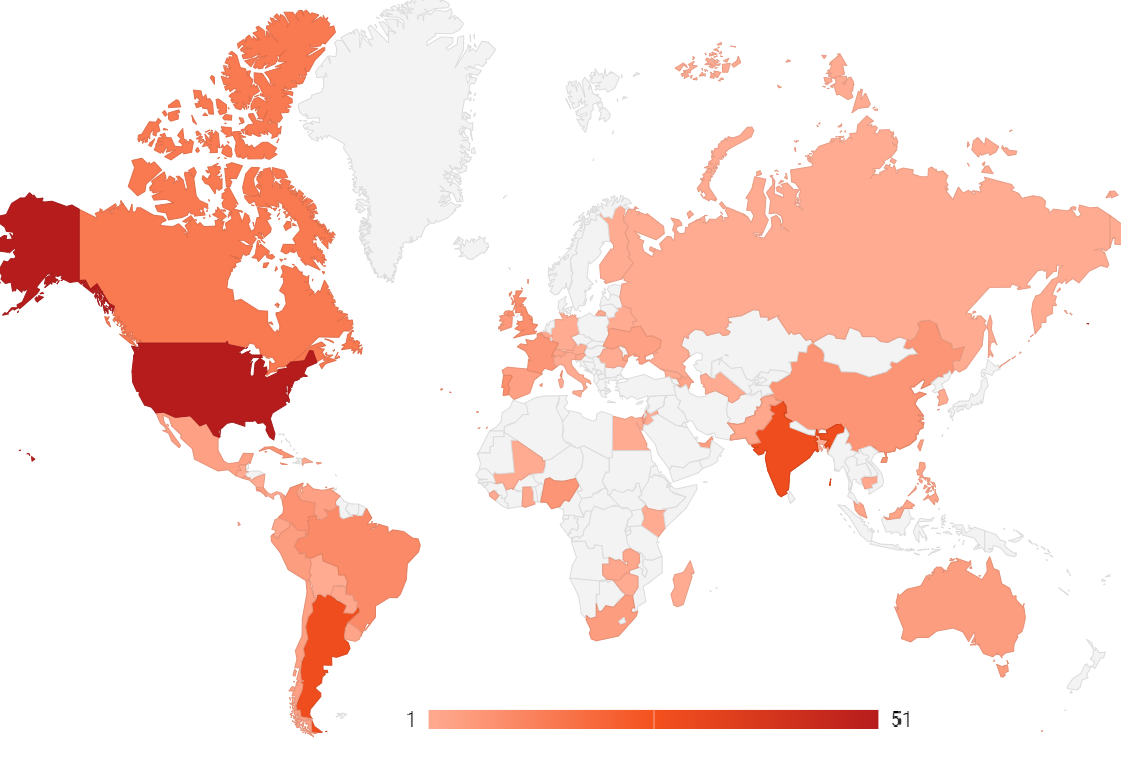 Summary of trends
From January to December 2017, a total of 322 social protection reforms were announced worldwide. Most of the measures were concentrated in Latin America and the Caribbean (30 per cent), Northern America (20 per cent) and Europe (17 per cent). Overall, 50 per cent relate to non-contributory systems, 48 per cent to contributory systems, and 2 per cent of measures are composed of both. The most frequently cited areas were measures consisting of old-age pensions (33 per cent), health (22 per cent), followed by maternity and parental benefits (20 per cent) and social transfers to the poor (8 per cent).
The period shows overall positive developments, as 74 per cent of the measures were expansionary. Extension of social protection coverage is the most predominant trend (12 per cent), followed by the introduction of new schemes or benefits (10 per cent). However, a number of reforms contracted social protection systems. Pensions were the most affected, with about 5 per cent of overall measures implemented to increase the retirement age. Most of the changes in social protection schemes were parametric adjustments (79 per cent). Structural reforms were mostly expansionary, introducing new schemes or benefits (7 per cent).
Regarding the impact of social protection benefits on specific social groups, around 14 per cent of the identified measures included a gender dimension and 5 per cent were implemented to address the needs of the poor or extreme poor.
Methodology
ILO's Social Protection Monitor is based on media/news published online. The Monitor tracks announcements of social protection measures, defined as any policy decision that affects the functioning of a social protection system, from minor parametric adjustments to major developments and reforms, as well as social subsidies. The Monitor is a useful source for addressing the information gap since updates to the comprehensive global social protection statistics reported in the ILO Social Security Inquiry take years to compile. Note that the Monitor is biased given that governments do not always announce, and often underreport, contraction/adjustment measures. While the Monitor provides the most comprehensive list of announced social protection measures and a glimpse at present global trends, it does not replace the thorough analysis provided by the ILO's Social Security Inquiry and the World Social Protection Report. For a full list of measures by country, click here.
Top ten measures
| | |
| --- | --- |
| Increasing benefits | 47 |
| Extending coverage | 44 |
| Introducing new scheme or benefits | 43 |
| Improving access/administration | 22 |
| Increasing the period for receiving the benefits | 17 |
| Increasing retirement age | 15 |
| Contracting coverage | 8 |
| Increasing contribution rates | 8 |
| Increasing package of services | 8 |
| Introducing or increasing benefits for migrants | 7 |
Developments by type of social protection scheme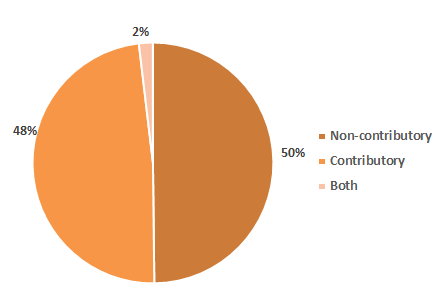 Measures classified by social protection functions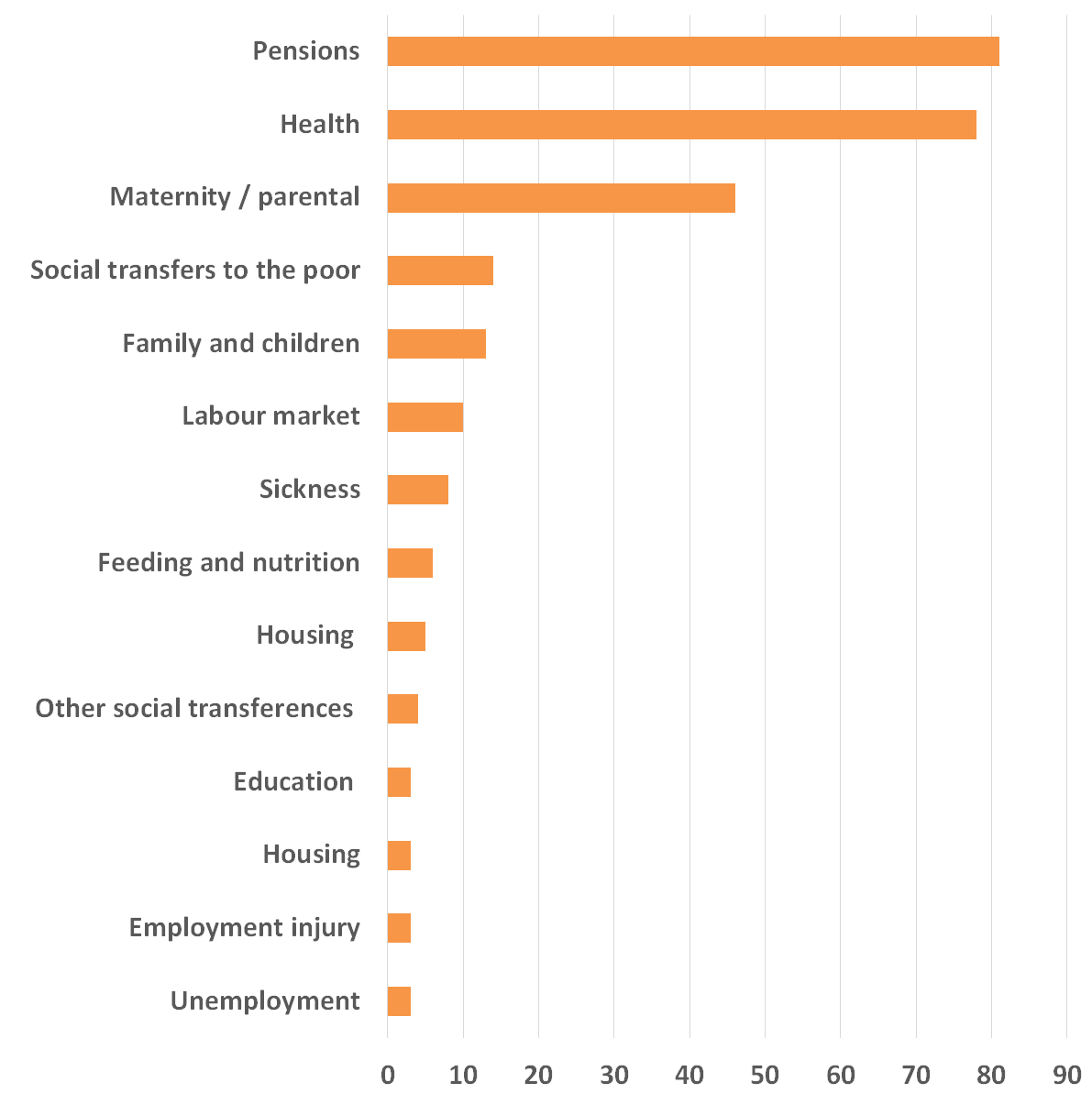 See more:
Global Social Protection Monitor 2010-2017
Social Protection:Data and Indicators
Highlights:
The State of Oregon (USA) approved the extension of healthcare for immigrant (illegal) children and a Reproductive Health Equity Act to eliminate barriers that previously affected residents based on citizenship status, gender identity, and income.
In the United States, parental leave was expanded or introduced in a number of states (Arkansas, Missouri) and municipalities across the country (Salt Lake City, Tampa, Seattle and others).
In Colombia, the Government approved a law extending the maternity leave from 14 to 18 weeks. The law also grants women a mandatory week leave before childbirth, which can be extended to two weeks in case of multiple birth. In March, the government also authorised restructuring Colpensions, to ensure the sustainability of Colombian social security system.
In Cuba, new legislations on maternal / parental benefits were approved, including extending the duration of paid parental leaves, extending the duration of payment, guaranteeing minimum cash benefits, and tax reduction for self-employed mothers.
In Finland, the country launched a pilot project designed to provide unemployed citizens an unconditional basic income. The beneficiaries, aged 25 to 58 years old, will be granted a sum of € 560 monthly, that will replace their existing social benefits and will continue to be paid even if they find work.
In China, the State Council released a new social protection plan that will provide additional benefits to occupational disease patients and families, and will improve welfare for those working in harsh conditions.
New health insurance schemes were approved in Egypt and South Africa.
In India, women were the focus of a series of national and regional reforms. The central government decided to provide Rs 6000 to pregnant & lactating women, to double maternity leave for female workers in industries, and to extend paid maternity leave from 12 to 26 weeks for female workers. However, the Government also limited India's Maternity Benefit Programme (MBP) to one child only, instead of two as it had previously announced.
In Costa Rica, CCSS approved the first 0.5 per cent increase in the pensions contribution rate for July. The second 0.5 per cent increase, part of planned gradual increase, was to take effect in January 2018.
In Argentina, the government suspended the payment of 70,000 disability pensions, alleging this measure aims to correct irregularities created previously. Additionally, a government decree halted expected retirement pension increase, by modifying the formula of calculation. However, facing strong opposition, the measure was withdrawn moments later.
In the United States, several states have approved pension reforms that will increase retirement ages, hike contributions, freezing indexation, and enforce the enrolment in a 401(k) style retirement plan for civil servants and public school teachers, among other measures.
In Taiwan, China, a pension reform was approved to cut the retirement benefits of civil servants, by reducing government-subsidized interest rate on savings, lowering income replacement rate, increasing retirement age, and modifying the formula for calculating the pension. This reform was scheduled to take effect in July 2018.
The United States' Federal Government approved the elimination of a relief program for migrants who had entered the country as children.
In Ukraine, the transition from public to a private health system was authorized. Also, the country has adopted legislation to reform the pensions system, in line with an International Monetary Fund (IMF) assistance programme.