Social Protection Monitor 2018
Social Protection Measures throughout the world: January to June 2018
The Social Protection Monitor presents the latest policy trends based on media announcements on social protection measures. This update covers January to June 2018.
Social protection measures by region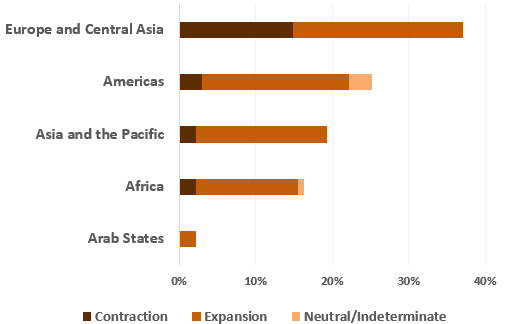 ALERT! Adjustment reforms:
| | |
| --- | --- |
| Increasing contribution rates | 4 |
| Rationalization/suspension of programmes or benefits | 4 |
| Introducing individual accounts | 3 |
| Contracting coverage | 3 |
| Merging of several programmes | 2 |
| Modifying calculation formula | 2 |
| Freezing indexation | 2 |
| | |
More information on adjustment measures:
The Decade of Adjustment: A Review of Austerity Trends 2010-2020 in 187 Countries
Social protection global policy trends 2010-2016
Developments by components of the social protection floor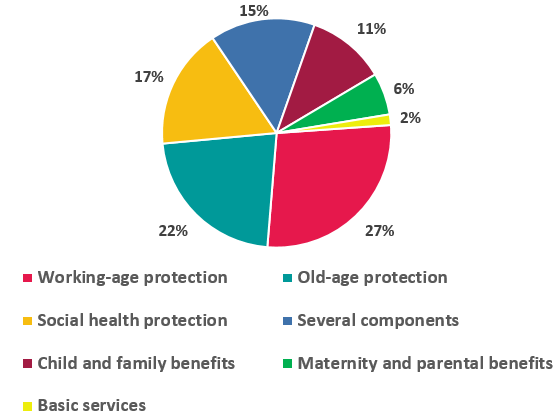 Social protection measures by country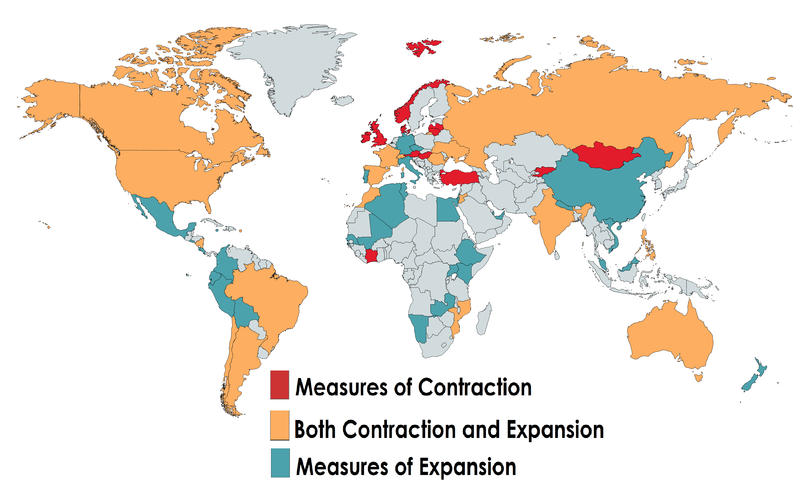 Summary of trends
From January to June 2018, a total of 135 social protection reforms at the national level were announced worldwide. A large part of the measures was concentrated in Europe and Central Asia (37 per cent), followed by the Americas (25 per cent) and Asia and the Pacific (19 per cent).
The period shows an overall positive evolution. However, 39 per cent of the countries reported applied measures of contraction. Pensions were the most affected, with 13 per cent of all contractionary measures announced to increase contribution rates, followed by rationalization or suspension of programmes or benefits with 10 per cent, and introduction of individual accounts also with 10 per cent.
Overall, 43 per cent of the measures refer to non-contributory systems and 55 per cent to contributory ones. The majority of the adjustments in social protection systems were parametric adjustments (70 per cent), while most of the structural reforms were expansionary (80 per cent of the total of structural measures).
The most cited social protection functions were measures consisting of pensions (45 per cent), followed by health (20 per cent), labour market (10 per cent), and family and children (10 per cent). The leading trend is the introduction of new scheme or benefits (23 per cent), followed by the increase in benefits (20 per cent), and the expansion of coverage (13 per cent).
In terms of the impact of social protection benefits on specific social groups, about 13 per cent of the measures identified included a gender dimension and 10 per cent were applied to address the needs of the poor or indigent.
Methodology
ILO's Social Protection Monitor is based on media/news published online. The Monitor tracks announcements of social protection measures, defined as any policy decision that affects the functioning of a social protection system, from minor parametric adjustments to major developments and reforms, as well as social subsidies. The Monitor is a useful source for addressing the information gap since updates to the comprehensive global social protection statistics reported in the ILO Social Security Inquiry take years to compile. Note that the Monitor is biased given that governments do not always announce, and often underreport, contraction/adjustment measures. While the Monitor provides the most comprehensive list of announced social protection measures and a glimpse at present global trends, it does not replace the thorough analysis provided by the ILO's Social Security Inquiry and the World Social Protection Report. For a full list of measures by country, click here.
Top ten measures
| | |
| --- | --- |
| Introducing new scheme or benefits | 23 |
| Increasing benefits | 20 |
| Extending coverage | 13 |
| Improving administration | 10 |
| Modifying calculation formula | 7 |
| Increasing credit/budgetary allocations | 5 |
| Increasing contribution rates | 4 |
| Rationalization/suspension of programmes or benefits | 4 |
| Introducing individual accounts | 3 |
| Contracting coverage | 3 |
Developments by type of social protection scheme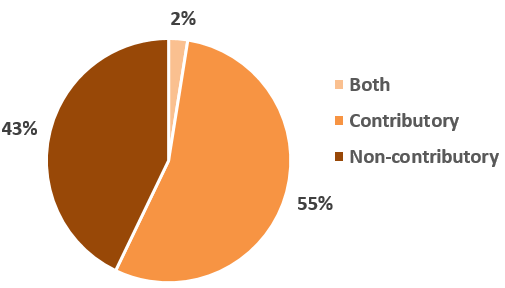 Measures classified by social protection functions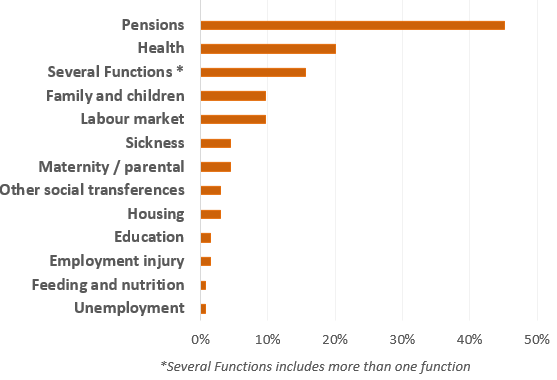 See more:
Global Social Protection Monitor 2010-2017
Social Protection:Data and Indicators
Highlights:
In Brazil, the government announced an increase in maternity leave from 120 days to 180 days. However, facing raising tensions, the government withdrew the pension reform proposal, which would increase the minimum retirement age and the minimum contribution period.
In China, the government is increasing subsidies by 19 per cent this year for the Serious Illness Social Insurance programme, which covers more than 20 million people.
In Congo, the government is strengthening the health system through the creation of new health districts and the adoption of essential service packages. Free caesarean section, major obstetric interventions, malaria for children aged 0-15, tuberculosis and HIV/AIDS will also be included, with the aim of expanding coverage of health care and services for all sectors of society.
In India, the government plans to launch the National Health Protection Scheme (NHPS) which will significantly increase health care facilities, particularly those in smaller towns and villages.
In Jordan, paternity leave for temporary workers was approved. However, large demonstrations shook several Jordanian cities in response to planned tax increases, which would raise employee contributions by at least 5 percent.
In Kyrgyzstan, an allowance for child birth was introduced but the universal child benefit is being targeted to the poor.
In Lithuania a bill would largely eliminate employers' social security contributions while doubling them for employees, as part of a shift from a single flat-rate income tax to a two-tiered progressive income tax system. In addition, employees under the age of 40 would be automatically enrolled in the current system of individual retirement accounts.
In Malaysia, amendments made mandatory the business owner to register the spouse hired, as a worker, under the Social Protection schemes and benefits, before the provisions denied a husband or wife of working in a commercial society, under the benefits of Socso schemes.
In Mongolia, the universal child benefit has been constantly put under pressure to either abolish it or target the scheme.
In Nicaragua, announced measures to raise pension contribution rates and divert pension benefits from medical care were cancelled after an unleashed wave of violent protests, looting and clashes with police that left at least 25 dead.
In Portugal, the government has announced an extraordinary increase in pensions in order to complete compensation for the loss of purchasing power caused by the suspension of the pension update plan between 2011 and 2015, reversing an austerity measure.
In Romania, approved legislation shifted nearly all employer social security contributions to employees, resulting in a reduction in net pay for employees at current rates of gross pay.
In Russia, a series of measures were announced to enhance child and family benefits, such as doubling benefits for children with disabilities and improving childcare facilities. However, despite strong protests and opposition, the proposed pension reform moves towards raising the retirement age from 60 to 65 for men and from 55 to 63 for women.
In Ukraine, the pension taxation introduced since 2014 was declared unconstitutional, with the aim of safeguarding the value of pension benefits.
In the United Kingdom, low income families are losing their child benefits. Eligibility criteria will be restricted for all new benefit claims.