SPMonitor Jan - Jun 2016
SOCIAL PROTECTION MONITOR
Social Protection Measures throughout the world: January to June 2016
The Social Protection Monitor presents the latest policy trends based on media announcements on social protection measures. This update covers January to June 2016.
Social protection measures by region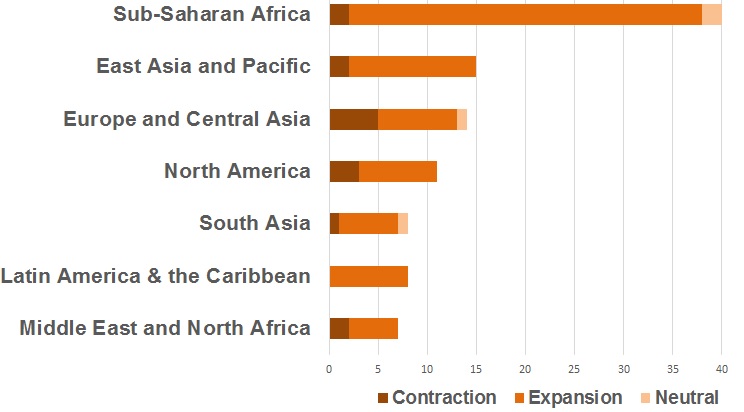 ALERT!

Adjustment reforms:
| | |
| --- | --- |
| Increasing retirement age | 6 |
| Reducing the period for receiving benefits | 2 |
| Contracting coverage | 1 |
| Reducing budgetary allocations | 1 |
| Reducing the eligibility period | 1 |
| Introducing or increasing taxes on benefits | 1 |
| Tightening eligibility criteria | 1 |
| Rationalization and narrowing of programmes or benefits | 1 |
| Reducing benefits | 1 |
| | |
More information on adjustment measures:
The Decade of Adjustment: A Review of Austerity Trends 2010-2020 in 187 Countries
Social protection global policy trends 2010-2015
Developments by components of the social protection floor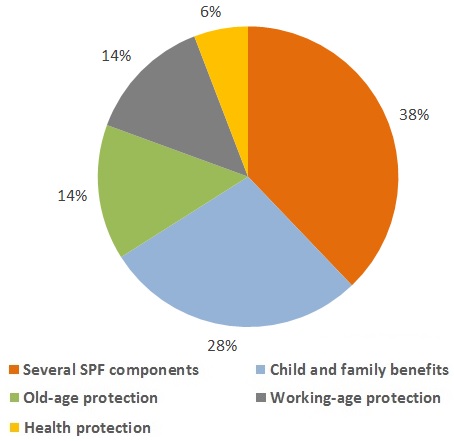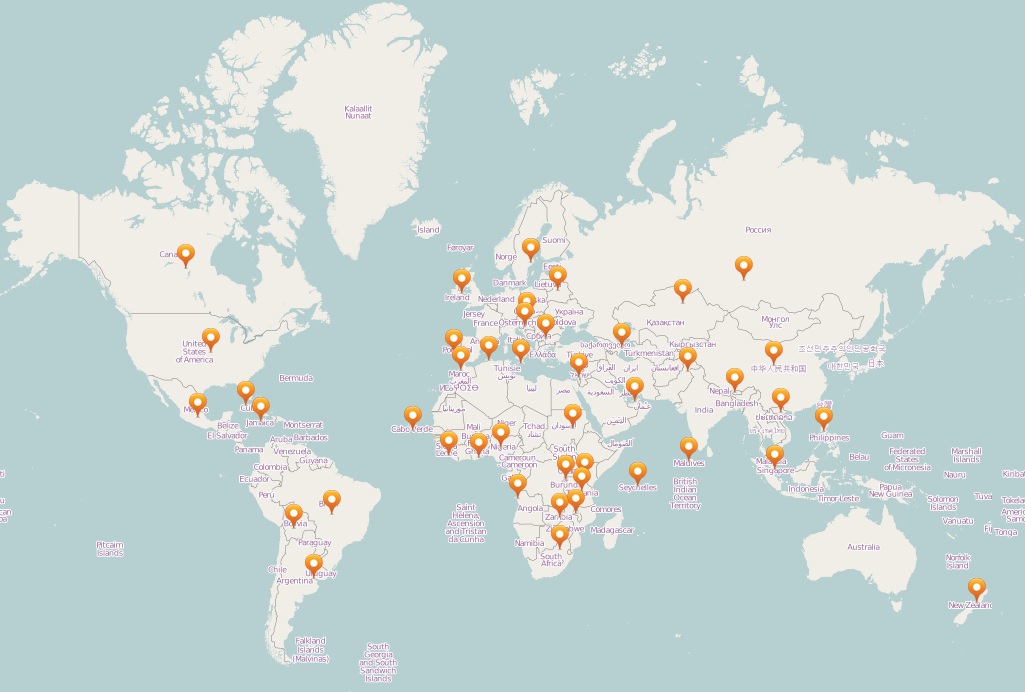 Summary of trends
From January to June 2016, 103 social protection reforms were announced worldwide. Most of the measures were concentrated in sub-Saharan Africa (39 per cent), East Asia and the Pacific (15 per cent), and Europe and Central Asia (14 per cent). Overall, 46 per cent relate to non-contributory systems, 41 per cent to contributory cash transfers and 13 per cent of measures are composed of both. The most frequently cited areas were measures consisting of several functions of social protection (36 per cent), followed by pensions (17 per cent) and maternity/parental benefits (15 per cent).
The period shows overall positive developments, as 82 per cent of the measures were expansionary. Extending social protection coverage is the most predominant trend (23 per cent), followed by increases in the period for receiving social protection benefits (11 per cent). However, a number of reforms contracted social protection systems. Pensions were the most affected, with about 6 per cent of measures implemented to increase the retirement age. Most of the changes in social protection schemes were parametric adjustments (89 per cent). Structural reforms took place mainly in sub-Saharan Africa.
Regarding the impact of social protection benefits on specific social groups, around 13 per cent of the identified measures included a gender dimension and 21 per cent were implemented to address the needs of the poor or extreme poor.
Methodology
ILO's Social Protection Monitor is based on media/news published online. The Monitor tracks announcements of social protection measures, defined as any policy decision that affects the functioning of a social protection system, from minor parametric adjustments to major developments and reforms, as well as social subsidies. The Monitor is a useful source for addressing the information gap since updates to the comprehensive global social protection statistics reported in the ILO Social Security Inquiry take years to compile. Note that the Monitor is biased given that governments do not always announce, and often underreport, contraction/adjustment measures. While the Monitor provides the most comprehensive list of announced social protection measures and a glimpse at present global trends, it does not replace the thorough analysis provided by the ILO's Social Security Inquiry and the World Social Protection Report. For more information, click here.
Top ten measures
| | |
| --- | --- |
| Extending coverage | 24 |
| Increasing the period for receiving benefits | 11 |
| Increasing budgetary allocations | 11 |
| Introduction of a new programme | 9 |
| Enhancing the administration of the programme | 6 |
| Increasing retirement age | 6 |
| Increasing benefits | 5 |
| Increasing pension benefits | 4 |
| Contracting coverage | 3 |
| Merging of several social protection programmes | 3 |
Developments by type of social protection scheme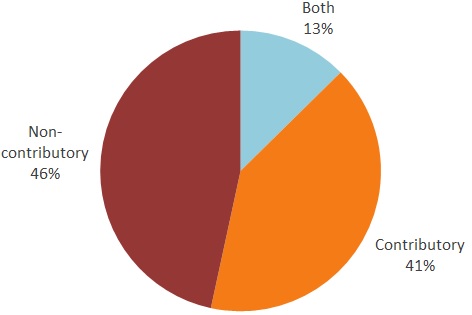 Measures classified by social protection functions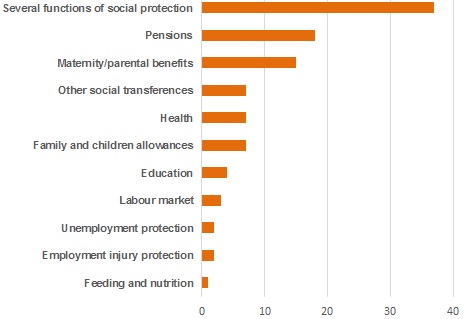 See more:
Global Social Protection Monitor 2010 - 2015
Social Protection: Data and Indicators
Highlights:
In Ghana, indigents were included into the National Health Insurance Scheme.
In Canada, the Government increased benefits for disabled people who reside in rural areas to help them with the costs of transportation.
In Rwanda, a new law now allows mothers to receive full salary during maternity leave, so as to prevent women from returning to work too soon.
In China, Beijing extended maternity and paternity leave, while Shanghai extended marriage leave to encourage couples to have a second child.
Bhutan revised its maternity leave policy, guaranteeing a six-month maternity leave for civil servants.